Gas and Renewables Win as Korea Eyes Pivot from Coal and Nukes
David Wagman | June 05, 2017
South Korea's new government plans to shift from coal and nuclear power for electricity generation and toward natural gas and renewable energy resources.
South Korea's liquefied natural gas imports could increase by more than 50% by 2030, while coal imports could peak as early as 2018.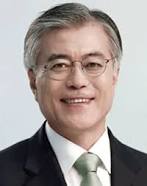 President Moon Jae-inSouth Korea is Asia's fourth-largest economy and gets 70% of its electricity from thermal coal and nuclear reactors, according to the Reuters news agency.
The government reportedly aims to boost gas-fired generation from about 18% now to 27% by 2030 and boost the use of renewables, now mainly hydro, from roughly 5% to 20%.
Coal's contribution would fall from about 40% to 21.8% and nuclear from 30% to 21.6%. The goals are based on power demand growth of 2.2%.
One short-term option is to boost the operating rates of gas-fired power stations from 40% to 60% by reducing or removing tariffs on gas imports. Coal and nuclear power are exempt from import tariffs, Reuters says.
President Moon Jae-in pledged during his campaign to review existing plans to build nine coal power plants and eight nuclear reactors, including the partially-completed Shin Kori No.5 and No.6, citing safety concerns.
Experts estimate up to $2.7 billion has already been committed on Shin Kori No.5 and No.6 by state-run Korea Hydro & Nuclear Power Corp. The first Korean-designed Advanced Pressurized Reactor-1400 (APR-1400) entered commercial operation in December 2016. Unit 3 of the Shin Kori nuclear power plant was connected to the grid in January 2016.