ITT's PRO Services® brand now offers the i-ALERT® Ai platform, a web interface allowing customers to take advantage of the Industrial Internet of Things to monitor all their i-ALERT2 enabled rotating equipment in one place.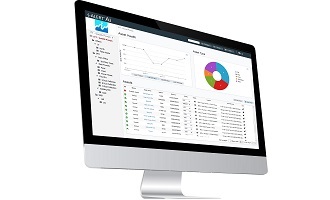 Monitor i-ALERT devices and machines from a simple web interface. (Source: ITT)The simple online asset intelligence (Ai) platform is the latest service to be introduced since the i-ALERT2 Bluetooth Smart-enabled machine health monitor was launched in May 2015. The system enables customers to spend less time collecting data from their rotating equipment and more time solving problems.

With the i-ALERT Ai platform customers can monitor and manage all their i-ALERT enabled machines and sensors in a simple web interface. This subscription service requires no software to download or dedicated hardware to run and allows customers to view trend data, machine notes, technical data, and vibration spectrum data collected via the i-ALERT2 application (app), all visualized in a simple timeline.

This online web interface complements the route customization feature introduced in 2016, which cuts collection of machine performance data by as much as 50 percent. Customers can manage the data collection via the i-ALERT mobile app by setting up designated routes and the app will automatically guide a user to which assets and what type of data to collect on the route. Once a route is completed, the app will automatically generate a report and email it to the user.
With the i-ALERT2 sensor, the mobile app and the Ai platform, customers can have a seamless monitoring solution that will enable them to safely inspect multiple pieces of equipment and be alerted of potential problems before they become critical failures. Features include:
Asset Intelligence: Monitor the equipment health of any rotating machine such as pumps, motors, fans, mixers, gear boxes and more. It tracks 3-axis vibration, temperature, kurtosis and machine run-time. It logs data at every hour or on an alarm event.
Easy to Use: With the free mobile app and simple interface, it puts machine monitoring in the hands of the everyday user.
Save Time: The app will quickly scan multiple machines at once and cover more equipment with fewer resources, freeing time for analysis and troubleshooting.
Stay Safe: A Bluetooth® Smart wireless connection allows monitoring from a safe distance.
Early Detection: Unplanned machine failures can be avoided with the early detection feature of the i-ALERT monitoring solution. Customers can now view real time and historical data, diagnostic information and machine records. This provides them with the data necessary to make informed decisions.
Solve Problems: Advanced vibration diagnostic tools are available to anyone who can use a smartphone or tablet. With the Ai platform, customers will be able to monitor i-ALERT2 enabled machines anywhere they have an internet connection.

The i-ALERT2 monitor is certified in 78 countries and the mobile app is available on iOS and Android platforms.