Video: First Commercial Carbon Capture Plant Now Operational
S. Himmelstein | June 02, 2017
Climeworks, a developer of atmospheric carbon capture technology, has opened what it claims is the world's first commercial plant that captures atmospheric carbon dioxide for supply and sale to a customer. The direct air capture (DAC) plant near Zurich, Switzerland, is now supplying 900 tpy of CO2 to a nearby greenhouse.
The DAC system is installed on the roof of a waste recovery facility and uses its low-grade waste heat to power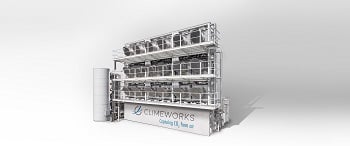 The plants capture atmospheric carbon with a filter. (Source: Climeworks)the capture process. The CO2 is chemically deposited on the filter surface, and upon filter saturation, the gas is isolated at about 100° C. Key markets for the captured gas include commercial agriculture, food and beverage industries, the energy sector and the automotive industry.
Capturing CO2 locally for industrial uses enables customers to reduce their emissions and lessen their dependence on fossil fuels, as currently most industrial CO2 is transported from fossil point sources via truck to industries on site. In comparison to other carbon capture technologies, a modular Climeworks plant can be employed almost anywhere.
The company has near-term plans to launch additional commercial pilot projects in key target markets and wants to test its technology's potential to deliver negative emissions by combining it with underground storage. Longer-term, Climeworks aims to filter 1% of global CO2 emissions by 2025 to help the international community limit global temperature rise to 2° C in line with the Paris climate agreement.