Electric power produced by small-scale photovoltaic (PV) systems amounted to about 37% of the annual generation from all U.S. solar PV electricity generators in 2016.
The Energy Department's Energy Information Administration's (EIA's) small-scale category includes PV systems that have less than 1 megawatt (MW) of generating capacity. These systems are usually installed at or near residential, commercial, or industrial sites. In 2016, the residential sector's share of total small-scale solar PV generation rose to 52%, EIA says.
(Read "How Does Solar Energy Work? PV Basics.")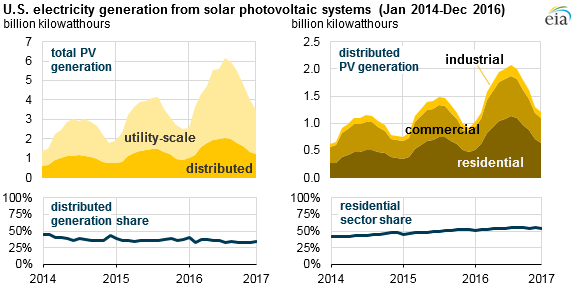 Residential PV systems average around 5 kilowatts (kW) in size and typically are smaller than commercial PV systems, which average closer to 200 kW, according to the National Renewable Energy Laboratory.
EIA says that small-scale PV generation nearly doubled from 2014 to 2016. But its share of total solar PV generation fell as utility-scale solar PV generation rose even faster. As more utility-scale solar plants are added, the average size of a utility-scale solar PV plant has also increased, from 10 MW for plants entering service in 2014 to more than 17 MW for plants entering service in 2016.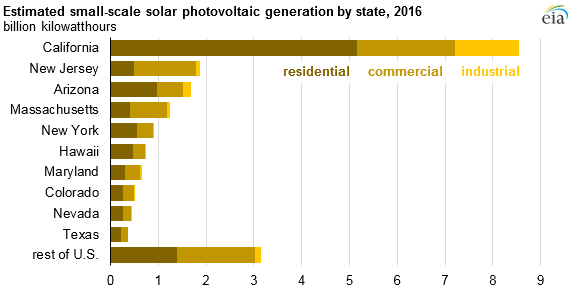 The largest utility-scale solar plant in the United States, a 250 MW solar PV plant near Las Vegas, Nev., entered service at the end of 2016. The Moapa Southern Paiute Solar Project is on the Moapa River Indian reservation and has a 25-year power purchase agreement (PPA) with the Los Angeles Department of Water and Power. The project includes more than 3.2 million thin film PV solar panels. This equates to more than 25 million square feet of solar panels, or enough to cover more than 450 NFL football fields.
California is the leading state for small-scale PV, with 43% of the nation's total small-scale PV output in 2016. In recent years, New Jersey's share of the nation's total small-scale PV generation has dropped most significantly, from 12% in 2014 to 9% in 2016. Unlike other states, where the majority of small-scale PV is in the residential sector, the majority of New Jersey's is on commercial-sector buildings or sites.