Video: Silkworms and Science Combine to Restore Hearing
S. Himmelstein | May 31, 2017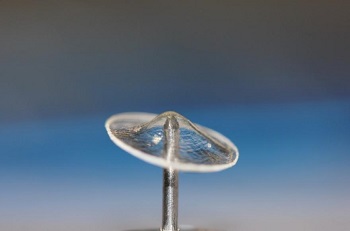 The ClearDrum biocompatible silk implant can repair a perforated eardrum in a single procedure. (Source: Ear Science Institute Australia)Restoring hearing to patients with chronic middle ear disease often requires multiple surgeries using grafts from the patient's own tissues to repair perforated eardrums. A less invasive and more efficient repair may soon be available: a silk-based implant developed in Australia.
ClearDrum is a biocompatible silk implant on which the patient's own cells grow and flourish to heal the eardrum. Testing over numerous years has shown that the device is more efficient than available graft materials in transmitting sound vibrations. The reduced complexity and time within surgery provides an even greater advantage and will allow the implant to be used in more cases and by more surgeons in more countries than current solutions.
Compared with current surgical procedures, use of the strong and transparent ClearDrum is expected to be less expensive, less invasive, and it promises quicker healing of the ear drum.
Researchers from Ear Science Institute Australia, University of Western Australia, and Deakin University participated in this development.