The Lasting Effect of Wildfire Smoke on the Atmosphere
Marie Donlon | May 24, 2017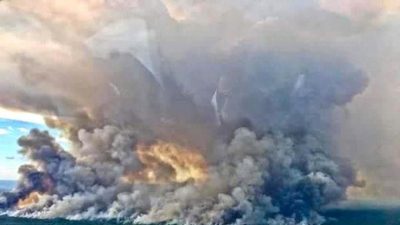 Smoke rises from a wildfire burning across 150,000 acres of the Okefenokee Swamp in Georgia and Florida. Image credit: USFWS
The impact of wildfire smoke on the atmosphere lasts longer than previously thought, according to recent research from the Georgia Institute of Technology.
Carbon particles that are released into the air from burning trees (and other organic matter) are more likely to travel to the upper levels of the atmosphere — interfering with sun rays.
"Most of the brown carbon released into the air stays in the lower atmosphere, but a fraction of it does get up into the upper atmosphere, where it has a disproportionately large effect on the planetary radiation balance — much stronger than if it was all at the surface," said Rodney Weber, a professor in Georgia Tech's School of Earth and Atmospheric Sciences.
Analyzing air samples collected in 2012 and 2013 by NASA aircraft from around seven miles above the Earth's surface (the troposphere) and throughout the U.S., researchers found unexpected levels of brown carbon and less black carbon in the samples.
While both black and brown carbon absorb and scatter the sun's rays, interfering with solar radiation, black carbon is visible in the plumes of smoke above burning fossil or biomass fuels and brown carbon is a product of the incomplete combustion occurring when grasses, wood and other biological matter smolder (a marker of wildfires).
Researchers are concluding that although the climate is vulnerable to both types of particulates as they increase in altitude, because the brown carbon is more likely to travel to higher levels of the atmosphere, its impact on climate is greater.
"People have always assumed that when you emit this brown carbon, over time it goes away," said Athanasios Nenes, a professor and Georgia Power Scholar in the School of Earth and Atmospheric Sciences and the School of Chemical and Biomolecular Engineering.
Smoke plumes carry the brown carbon into the lower atmosphere where it mixes with clouds that carry the brown carbon to the upper atmosphere.
"The surprise here is that the brown carbon gets promoted when you go through the cloud, compared to black carbon," Nenes said. "This suggests that there may be in-cloud production of brown carbon that we were not aware of before."
The study was published in the journal Nature Geoscience.