Air Traffic Control Upgrades Completed in New York
David Wagman | May 24, 2017
Raytheon Co. says it completed a modernization program for air traffic control in the New York area six months ahead of schedule.
Under the Terminal Automation Modernization and Replacement program, known as TAMR, the company replaced software and hardware and more than 100 automation systems with the Standard Terminal Automation Replacement System (STARS).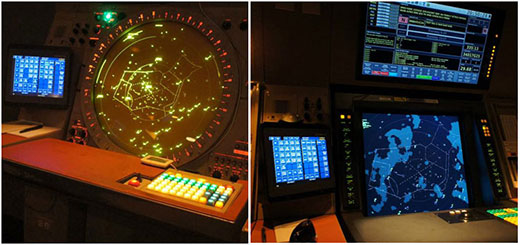 Old system (left) and new Terminal Automation System (right).STARS enables Terminal Radar Approach Control, or TRACON facilities to provide safe and efficient aircraft spacing and sequencing guidance for departing and arriving aircraft in the airport terminal area.
The system replaces several generations of terminal automation systems. It also brings additional safety and capacity management to terminal automation and is part of NextGen, the Federal Aviation Administration's (FAA's) airspace modernization initiative.
As part of TAMR, Raytheon modernized the FAA's 11 largest TRACON facilities, which control 80% of U.S. air traffic. New York was the final TRACON to achieve Operational Readiness Decision in May.
The primary responsibility of the New York TRACON is the safe, orderly, and expeditious flow of arrivals and departures for the four major airports – JFK, LaGuardia, Newark, and Teterboro – and dozens of smaller air fields. On an average day, there are 6,000 to 7,000 operations between the New York TRACON and approximately 21 other facilities on the East Coast.
Terminal automation systems receive surveillance data and aircraft flight plan information. Controllers at radar control facilities use these systems to manage air traffic immediately around major airports. These systems enable controllers to provide several air traffic control services that are critical to the safety of the national airspace:
Separating and sequencing aircraft
Conflict and terrain avoidance alerts
Weather advisories
Radar vectoring for departing and arriving traffic.
The FAA's Terminal Automation Modernization and Replacement program is modernizing the air traffic control systems at TRACON facilities and control towers at the nation's major airports.