Gates Introduces New Poly Chain® ADV™ Synchronous Power Transmission Belt
Ken Thayer | May 19, 2017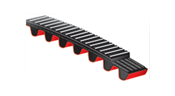 Poly Chain® ADV™Gates Corporation, the world's leading manufacturer of power transmission belts, has introduced its next generation synchronous power transmission belt, the Poly Chain® ADV™. Due to the use of cutting-edge carbon fiber technology and a proprietary jacket material, the Poly Chain ADV is a narrower and more durable synchronous power transmission belt drive.
According to Taylor Jung, Director of Global Product Line Management – Synchronous Drives, "Gates has been the synchronous belt market leader for decades. "Poly Chain ADV™ extends that leadership by offering our customers solutions to their most challenging applications."
The improved durability reduces maintenance costs and replacement frequency compared to large roller chain drives. Compared to a roller chain drive, a 3,500 mm long Poly Chain ADV weighs only 7 lbs, compared to over 200 lbs for the roller chain. The Poly Chain ADV requires no maintenance, compared to the repeated relubrication and retensioning required for the roller chain.
When compared to a 10-strand B section V-belt drive of 2450 mm length, the Poly Chain ADV weighs 88 lbs compared to the 179 lb V-belt drive. The width is 82 percent narrower than the 10-strand V-belt and reduces forces on bearings by 48 percent. In addition, the Poly Chain ADV costs $1452, approximately $400 less than the V-belt drive.
Poly Chain ADV also provides 15 percent more power capacity than Gates Poly Chain® GT® Carbon™ belts. This makes the Poly Chain ADV ideal for a wide range of applications, including recreational vehicles, industrial dough mixers, metal stamping equipment and other vehicle and industrial automation applications.