Scientists at the National University of Singapore have successfully created a 2-D polymer material, an organic analog of graphene. The novel material could provide an inexpensive electrode for sodium ion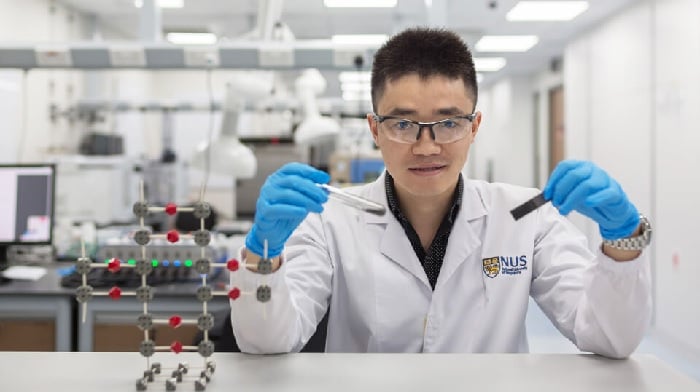 NUS PhD student Mr. Liu Wei showing the 2-D graphene-like polymer (left), and a piece of carbon paper coated with the material (right). Source: National University of Singaporebatteries, making them a good alternative for lithium ion batteries.
Creating the 2-D sheet marks a breakthrough in polymer technology. Molecules that can form 1-D and 3-D polymers have existed for years. Molecules that can be linked in a 2-D material are difficult to create because they rotate in solution.
The Singapore team based their novel molecule on carbon-carbon bonds, since this bond is stable in harsh environments. Synthesizing a 2-D material using these molecules is difficult; if an error in bond formation occurs, the reaction is irreversible.
To overcome this difficulty, the researchers took a flat monomer composed of aromatic rings connected by double carbon bonds. This arrangement provides good electrical conductivity in the resulting polymer. By pre-packing these monomers in a specific way and applying heat, the team created a 2-D crystalline material. The new material has numerous nano-sized pores and channels, providing pathways where sodium ions can move for energy storage. It is also stable. The researchers tested the material as an anode in sodium batteries and demonstrated that it charged and discharged quickly at room temperature and retained 70 percent of its capacity after more than 7,000 cycles.
This novel material offers advantages for commercial production. Since the polymerization process requires only heat — no catalysts or other chemical initiators — the cost of scaling up to mass production would compare to the cost of producing plastic. The components are inexpensive and readily available. Carbon is also a safe storage medium for sodium.
The research team is working on designs for additional 2-D molecules. Their work could lead to the development of a new branch of crystal engineering.