The iGlucose® Blood Glucose Monitoring System from Smart Meter, LLC has received 510(k) clearance from the U.S. Food and Drug Administration (FDA) and the CE Mark in Europe. The subscription-free glucose meter and diabetes health management system offers automatic transmission of diabetes information to a cloud-based personalized web portal while facilitating simple, real-time mobile communication between the user and individuals in his or her designated Circle of Care.
The iGlucose System uses digital mobile phone technology known as Global System for Mobile communication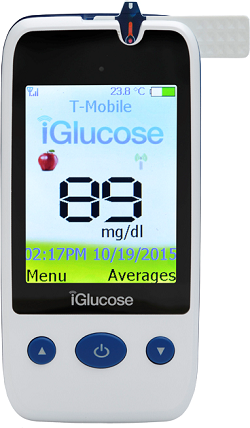 The iGlucose Blood Glucose Meter from Smart Meter.(GSM) for two-way communication between an individual's iGlucose® Meter and the iGlucose® Web Portal. Mobile health solutions, also known as mHealth, have been recognized to lower both cost and HbA1c, the key measure of an individual's blood glucose average.
Communication to and from the web portal happens automatically with no cables to connect, no Bluetooth to synch, no wi-fi requirement, no uploads to remember, and no telecommunication specs to program. The portal integrates the person's diabetes data in easy-to-read charts, graphs and an e-diary to display at-a-glance trends. It also sends personalized diabetes tips, coaching suggestions, and reminders via system-generated texts and emails from the iGlucose® Coach to the user, while also providing real-time alerts to their Circle of Care, informing them of glucose readings and other important information.
The device uses just 0.75 µl of blood, features a five-second test time plus flagging of before- and after-meal results, and meets ISO 2013 standards in providing accurate blood glucose readings. In addition, the price of test strips and the meter will be equal to or less than the copays of leading brands.