A robotic vehicle disguised as a fish is being designed to provide real-time, on-site monitoring of water quality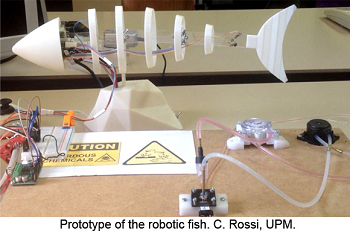 in fish farms. The autonomous underwater vehicle is being developed by researchers from Universidad Politecnica de Madrid (UPM), Spain, and University of Florence, Italy, to mimic a fish and adapt its motion in response to water quality as a way of indicating areas with abnormal conditions.
A sensor composed of electrically conductive polyaniline film on a graphite electrode surface monitors pH levels and converts the data into an electronic signal that dictates the robot's swimming patterns.
Results of preliminary experiments performed using pH sensors to control the fish robot's tail movement are considered by the researchers as a proof-of-concept for the development of the robotic water quality monitoring platform.
The biomimetic fish is 30 cm without including the tail and uses shape memory alloy actuators to bend a "backbone" made from 1 mm thick polycarbonate.