H&T Presspart, a manufacturer of components for metered dose inhalers based in Lancashire, UK, has announced that it will be releasing the PowdAir Plus dry powder inhaler. The device originally developed by Hovione Technology (Loures, Portugal) is designed for developing areas.
The patented capsule-based dry powder inhaler is low-cost and simply engineered, making it ideal for developing markets where demand for respiratory treatments is growing rapidly. An all-plastic, four-component design minimizes manufacturing assembly and production costs while maximizing ease of use.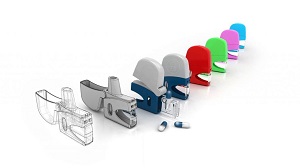 (Source: H&T Presspart)
PowdAir Plus was developed in response to the recognized need to offer patients in developing markets more choice of dry powder inhalers. Most inhalers available have been designed for developed markets and incorporate multiple components and complex mechanics.
The device has no metal or separate parts, and was designed to be robust to withstand the mechanical stresses of frequent use. PowdAir Plus delivers an effective dose of medication with each capsule in line with expected market performance. It is compatible with all capsule types (i.e. gelatine and HPMC) in size 3, so can be used with any dry powder medicines.
A novel design feature is the way in which the device opens the capsule once the tray is closed, removing the need for patients to actively pierce the capsule and reducing the number of operational steps. By enhancing ease of use, the design also removes the risk of errors that may affect a treatment's efficacy.