Video: New Pu Compound May Aid Nuclear Waste Remediation
S. Himmelstein | May 14, 2017
Discovery of a plutonium compound that behaves much more like lighter elements gives Florida State University researchers new information about how this element works. The findings will contribute to their efforts to develop technologies to clean up nuclear waste.
A plutonium-organic hybrid compound assembled in the lab behaved much like compounds made with lighter elements. Electron transfer back and forth between two different plutonium ions was observed, which is more typical between ions of lighter elements like iron.
The investigation is part of the group's overall mission to better understand the heavier elements at the very bottom of the periodic table. The U.S. Department of Energy provided $10 million in funds in 2016 to form a new Energy Frontier Research Center that will focus on accelerating scientific efforts to clean up nuclear waste.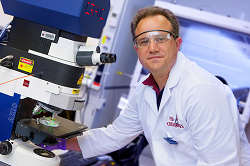 Thomas Albrecht-Schmitt, Professor of Chemistry at Florida State University. Image credit: Bill Lax/Florida State University
"In order to develop materials that say trap plutonium, you first have to understand at the most basic level, the electronic properties of plutonium," says chemistry professor and lead researcher Thomas Albrecht-Schmitt. "So that means making very simple compounds, characterizing them in exquisite detail and understanding both experimentally and theoretically all of the properties you're observing."
Albrecht-Schmitt and his research team have conducted similar work on the elements californium and berkelium.