Video: Powered Exoskeleton Prevents Slip Ups
S. Himmelstein | May 12, 2017
A smart exoskeleton engineered at EPFL (Ecole polytechnique fédérale de Lausanne, Switzerland) recognizes the loss of balance and prevents falling by senior citizens.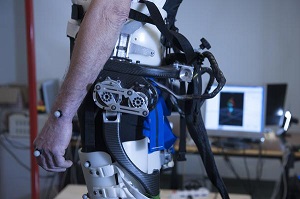 The personalized exoskeleton detects particularities of a user's gait. Image credit: EPFL
Unlike wearable devices designed to assist or enhance regular movement, the light-weight, customizable exoskeleton counteracts the loss of balance and promotes balance recovery after an accidental slip. Worn from the waist down, the exoskeleton could also be used as an aid for the physically impaired, amputees and those suffering from neurological disorders.
The exoskeleton requires only a few minutes to adapt to a given patient in a process, which involves adjusting the size for a particular user and learning the user's gait. Using motors at the hip of the carbon fiber brace, the system detects characteristics of the user's gait. An algorithm detects the onset of a fall triggered by deviations from normal walking patterns. Should this occur, the motors push the thighs down to reestablish stability at the hip.
An important design consideration is to ensure that the exoskeleton is non-intrusive. It should not unnecessarily disturb the user, particularly when the user is not falling. The next steps involve making the exoskeleton more discrete and portable for the outside world, and to test its usability with end users in real-life environments.