Video: Ocean Cleanup Project Ahead of Schedule
S. Himmelstein | May 12, 2017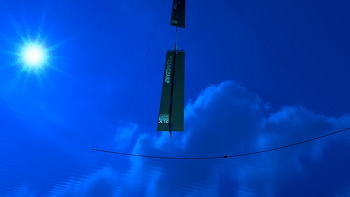 Computer rendering of the Ocean Cleanup anchor. Image credit: Erwin Zwart/The Ocean Cleanup
The Ocean Cleanup, the Dutch foundation developing advanced technologies to rid the oceans of plastic, has unveiled an improvement to its equipment design. The advance is expected to enable the start of plastic extraction operations in the Great Pacific Garbage Patch within the next 12 months, two years ahead of schedule.
Researchers are pursuing a passive method of removing marine debris in or near ocean gyres by means of 100-km (62 mi) long networks of floating barriers, anchored to the ocean floor. These V-shaped barrier networks are designed to interact with ocean currents, funneling plastic debris toward a central point where plastic can be extracted by a platform and stored for transportation and recycling.
Design improvements to this Ocean Cleanup Array involve introduction of a mobile, or drifting, system. Rather than fixing the floating screens to the seabed at great depths, the Ocean Cleanup will apply sea anchors to ensure the floating screens move slower than the plastic. The modular cleanup system now consists of a fleet of screens instead of one massive barrier.
The first pilot parts are now in production and testing will start off the U.S. west coast by the end of 2017.