Apple says that Corning Inc. will receive $200 million from its new Advanced Manufacturing Fund as part of the company's effort to foster innovation among American manufacturers.
Read "Apple Eyes Advanced Manufacturing Fund."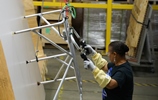 Corning worker readies a glass sheet for finishing.The investment will support Corning's R&D, capital equipment needs, and glass processing. Apple says that Corning's 65-year-old HarrodsburgKy., facility has been integral to the 10-year collaboration between these two innovative companies and will be the focus of Apple's investment.
Corning is one of Apple's long-standing suppliers and developed Gorilla Glass in 2007.
Apple says it plans to invest at least $1 billion with U.S.-based companies to foster innovative production and technology-driven manufacturing in the US.