Keeping bird flocks away from busy airport operations is essential for aviation safety. Various techniques, such as habitat modification, laser and audio devices, and trained falcons have been used in attempts to shoo birds away and prevent bird strikes.
A high-tech strategy is now being tested at Edmonton International Airport, Alberta, Canada, which currently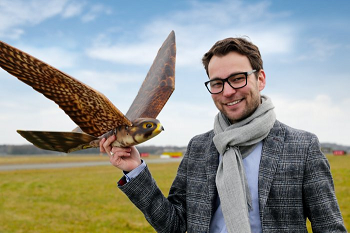 Robird will help drive bird flocks away from airports. Image credit: University of Twenteuses lasers and sound effects to keep birds away. The Robird, a drone disguised as a predatory falcon, will undergo a trial period as an unmanned aerial scarecrow. For the first three months, the effectiveness of the Robird at keeping birds away will be carefully monitored, and the project will be further optimized. There will also be intensive consultations with pilots and airline companies who need to become familiar with the relevant procedures.
The Robird was developed by Clear Flight Solutions, a spin-off company of the University of Twente, both of the Netherlands. Robird will guide birds safely away from air traffic while discouraging nesting near airside operations and glide paths as part of the airport's Wildlife Management Plan.
Clear Flight Solutions is collaborating in this project with Aerium, a Canadian company that focuses on services for unmanned aircraft systems.