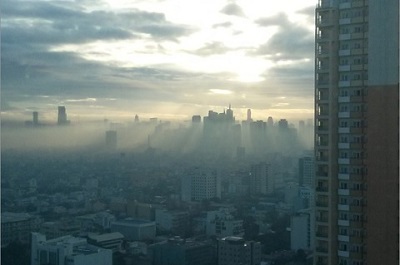 Source: World Health OrganizationRespiratory diseases culminating from poor air quality have been of growing concern. With the increased availability of air quality data, the silent killer has been targeted as the culprit for an extreme amount of deaths in low-income urban environments. Some might say the effects of poor air quality on respiratory health are as clear and evident as the effects greenhouse gases (GHGs) have had on climate change.
The WHO Air Quality Guidelines
Airborne particulate matter (PM) consists of a complex mixture of solid and liquid particles, including sulphates, nitrates, ammonia, sodium chloride, black carbon, mineral dust and water. Coarse to fine airborne PM, recognized as having a diameter less than or equal to 10 micrometers, have been found to be the most harmful, as they can penetrate and become lodged deep inside the lungs. As a result, the World Health Organization (WHO) has established air quality guidelines (AQG) for the accepted exposure limits of coarse to fine airborne PM.
Both long and short term exposure limits have been established as follows:
Long term exposure limits (annual mean concentrations)
10 micrograms per cubic meter for PM smaller than 2.5 micrometers (PM2.5)
20micrograms per cubic meter for PM smaller than 10 micrometers (PM10)
Short term exposure limits (24-hour mean concentrations)
25 micrograms per cubic meter for PM smaller than 2.5 micrometers (PM2.5)
50 micrograms per cubic meter for PM smaller than 10 micrometers (PM10)
Concentrations in excess of the limits set forth by the WHO have been proven to have adverse effects on the health of respiratory and cardiovascular systems. These limits set a benchmark for what is considered poor air quality, and are defined as the lowest levels at which total cardiopulmonary and lung cancer mortality have been shown to increase with a confidence level greater than 95 percent.
Mortality Statistics
The WHO attributes nearly 6.4 million premature deaths annually to air pollution, although almost half of these deaths are caused by indoor air pollution. This is primarily due to the fact that an alarming amount of people in low-income urban environments cook and heat their homes using solid fuel such as biomass, charcoal or coal exposing themselves to heightened levels of PM10.
Ischaemic heart disease and strokes are the most common of the respiratory diseases that account for the remaining 3 million premature deaths related to outdoor air pollution. Yet, what is even more alarming than the diseases that lead to premature death is the disproportionate geographic distribution.
According to the WHO, 92 percent of the world's population is living in places where the AQG levels are not met, yet 88 percent of premature deaths attributed to ambient air pollution occurs in low- and middle-income countries in the Western Pacific and South-East Asia regions.
Causes of Air Pollution
Is it a coincidence that areas suffering the most from poor air quality are also the areas with the greatest population density? While attempting to address the epidemic, the WHO found that the majority of the factors that contribute to air pollution are well beyond the control of the individual and require corrective action by national and international policymakers in sectors like transport, energy waste management, construction and agriculture.
An alarming amount of deaths in the Western Pacific and South-East Asia regions occur during periods when haze and smog blanket low-income urban environments. While the dual focus on health risks and climate change have produced a push for vehicle emissions to be drastically reduced, this alone will not solve the problem. There is more evidence that the blazing of forests to clear land, for palm oil plantations and other agricultural uses, and the unregulated use of coal have had a greater influence on air quality.
Many parts of the world have benefited from air quality regulations and other actions by government agencies like the United States Environmental Protection Agency (EPA). The EPA's Clean Air Act (CAA) established emissions limits on air pollutants coming from sources like chemical plants, utilities, steel mills and even agricultural practices. Technologically advanced scrubbers, clean coal technologies and a reduction in prescribed burning have allowed the United States to benefit from improved air quality.
Conclusion
Very few dispute that cancer is the leading cause of death in the United States, or that since the industrial revolution we have experienced a shift in climate patterns. The larger debate resides in the actual cause that led to these affects.
A closer look at air quality data and demographics collected and distributed by the WHO suggests that use of solid fuels to cook and heat your home are the single largest factor contributing to non-accidental, cardiovascular and respiratory mortality. Eighty-eight percent of the remaining premature deaths occur in geographic locations where overpopulation and lack of air quality regulations exist, leading to excessive background concentrations of PM10 and increased risk for the development of haze and smog in low-income urban environments.
Resources:
Ambient air pollution: a global assessment of exposure and burden of disease
WHO Air quality guidelines for particulate matter, ozone, nitrogen dioxide and sulfur dioxide