Tesla has revealed the price of its solar roof tiles and has begun taking orders for them. Serving as both solar panels and traditional roofing, the tiles produce energy and protect a building from the elements simultaneously. Yet they are nearly indistinguishable in appearance from conventional roofing. The price is highly competitive with traditional materials when taking into account the value of energy they produce.
The cost of the solar roof is less than analysts expected, with a typical cost of $21.85 per square foot. Active panels are $42 per square foot and inactive panels are $11 per square foot.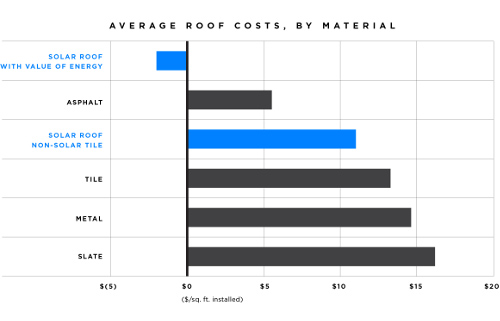 Solar roof cost compared to conventional roofing. Credit: Tesla. (Click to enlarge)
In a typical installation, energy producing tiles would cover about 40% of the roof depending on the state the building is located in and the building's energy usage. The rest of the roof would be covered by tiles that lack energy-producing capability, but are identical in appearance from street level.
Tesla's calculator estimating the cost to cover 40% of the roof of a 2-story, 2,000 ft2 home in New York State approximates the following:
Cost of roof: -$42,300
Cost of Powerwall battery: -$7,000
Tax credit: +$13,500
Value of energy over 30 years: +$52,700
Net earned over 30 years: +$16,900
Integration with Tesla's Powerwall battery system allows continuous power from solar energy overnight or during grid outages. The tiles come with a 30 year power-producing and weatherization warranty, as well as a warranty for the glass material of the tile lasting the lifetime of the house.
Made with tempered glass, the solar roof tiles do not degrade like asphalt or concrete. Tesla claims they are three times stronger than standard roofing tiles, yet only half the weight. They come with the highest hail, wind, and fire ratings available: Class 4 FM 4473, Class F ASTM D3161, and Class A UL 790, respectively. The glass coating standard is also the best-in-class ASTM C1376 EN 1096.
Smooth and textured tiles are available now, with Tuscan and slate styles expected to be available in 2018.
Tesla is currently taking orders, and installations will begin in June in California, rolling out to additional markets over time. Installations will be on a first come, first served basis as the rollout proceeds.