Duke Energy Offers Truck Stop Plug-in Kiosks
David Wagman | May 11, 2017
More than 25,000 gallons of truck fuel is projected to be saved annually as part of a $300,000 Duke Energy project to fund electrification at a North Carolina truck stop.
Big Boy's Truck Stop, in Kenly, N.C., will soon have 24 truck electrification stations where drivers can pay to plug in and avoid idling engines.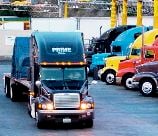 Drivers can plug in rather than idle diesel engines.Additionally, four plugs will provide standby power for refrigerated cargo to avoid the need to run diesel compressors.
IdleAir will install and maintain the stations. Installation is expected to be completed before summer.
Duke Energy says that each year, more than 2 billion gallons of diesel is wasted by overnight idling, quoting a study from Argonne National Labs. Idling is the industry standard method of providing overnight comfort to the more than 1 million drivers who sleep in their trucks each night.
The Duke Energy program was part of a 2015 settlement with the U.S. Environmental Protection Agency (EPA) and environmental groups.
An original complaint filed by the United States in 2000 alleged that Duke violated the Prevention of Significant Deterioration (PSD)/New Source Review (NSR) program by making major modifications to 25 coal-fired units at eight coal fired power plants without obtaining proper permits and installing proper pollution control technology.
The case went to the Fourth Circuit and the U.S. Supreme Court, resulting in a 2007 Supreme Court decision agreeing with EPA that the PSD provisions apply to major modifications that increase a plant's actual annual emissions.