A portable, lightweight Cart Pump from Gator Pump (Brownwood, TX) can be hand-loaded, wheeled and operated by just one person. The equipment can be loaded in the back of a truck, van or even the trunk of a car and used wherever a lightweight and maneuverable pump is needed.
The GATOR Cart Pump is easily wheeled about on its hand-truck dolly chassis and can be powered by a gasoline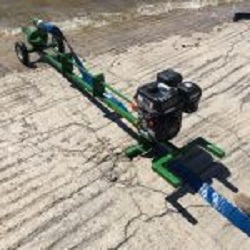 The Cart Pump can be loaded, wheeled and operated by just one person. Image credit: Gator Pump engine or an electric motor, depending upon your power preference. Discharge hose and clamps are available for both the 2- and 3-in. pump sizes and these pumps can produce flows up to 200 U.S. gallons per minute.
Drain ditches, empty pools and ponds, even irrigate gardens and crops with continuous pumping performance. The intakes are also screened to keep rags or trash from clogging the flow. There is no suction, no priming and no check valves—just roll it in the water, crank the motor and start pumping.