A new pumping solution for oil and gas drilling applications is engineered to increase productivity and reduce operating costs in the mud pumping process. MTeq technology from San Leandro, California-based Energy Recovery Inc. reroutes abrasive fluids away from high-pressure pumps.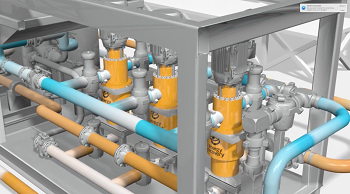 MTeq protects equipment during the mud pumping process. (Source: Energy Recovery Inc.)MTeq uses Energy Recovery's innovative PXTM Pressure ExchangerTM technology, currently used globally in desalination. The stand-alone pumping system is added to the mud pumping process between the mud pits and the positive displacement pump. Instead of pumping drilling mud, the pump now delivers particulate-free fluid. Energy from the high pressure clean fluid is transferred to the low pressure mud inside the MTeq, resulting in high pressure mud now ready to flow downhole and increase reliability of pumping assets.
By requiring pumping equipment to process only clean fluid, MTeq will drive a shift in drilling rig system level design, allowing for the use of centrifugal pumps which offer greater reliability and cost efficiency to drilling service providers. Reductions in pump repair and maintenance costs as well as planned and unplanned rig downtime can be realized.
In conjunction with the MTeq product launch, Energy Recovery announced a partnership with Sidewinder Drilling LLC as its first early-stage partner for the solution. The initiative will allow for product field testing and development, validation of the technical envelope and operational parameters, and the definition of the path to full commercialization.