Video: Focused Ultrasound May Have Role in Alzheimer's Disease Management
S. Himmelstein | May 06, 2017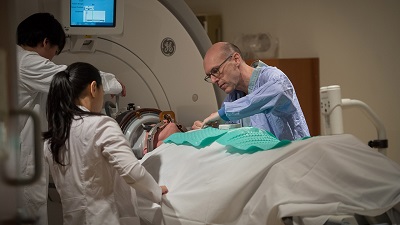 An anesthetist and imaging researchers prepare a research participant for the procedure. Image credit: Kevin Van PaassenPharmaceutical approaches to the treatment of Alzheimer's disease (AD) are impeded by the blood-brainbarrier (BBB), which prevents almost all potentially therapeutic drugs from passing into the brain. A remedy may have been found by researchers at Sunnybrook Health Sciences Centre, Toronto, Canada, who report the first use of focused ultrasound to non-invasively breach the BBB temporarily in patients with AD in a clinical trial.
In November 2015, Sunnybrook researchers successfully and safely opened the BBB non-invasively for the first time, to test the ability to deliver chemotherapy directly into a patient's brain tumor. This more recent trial is the first time the BBB was opened in patients with AD, although no drug therapies are being administered.
This investigation will include six research participants who will undergo two sessions of focused ultrasound, various cognitive testing and imaging scans, including a PET scan that shows amyloid deposits linked to AD, in the brain. If this phase proves successful, the researchers will consider another trial to test introducing small amounts of drug therapies and potentially move to the part of the brain that is most affected by this disease—the hub for creating new memories, the hippocampus.