Video: When Damaged, Superhydrophobic Material Sheds Like a Snake
S. Himmelstein | May 05, 2017
A superhydrophobic material that self-heals by shedding damaged outer layers could be of value in rain gear, medical instruments and self-cleaning car windows. However, available superhydrophobic surfaces are sensitive to shear and easily damaged, losing water repellency when scratched with sharp objects.
Researchers have previously been inspired by lotus leaves, water striders and other examples from nature to copy their water-repelling architecture and develop new materials. Now, researchers from University of Freiburg, Germany, have turned to the skin-shedding prowess of snakes and lizards to devise a more resilient, water-repellent material.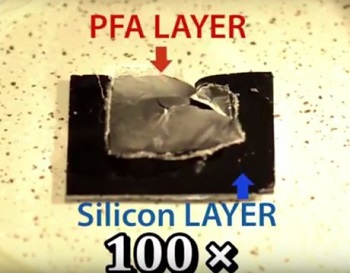 Three stacked layers form the water-repellent material. Image credit: American Chemical Society
Three stacked layers form the molting material: a water-repellent film made with poly-1H,1H,2H,2H-perfluorodecyl acrylate (PFA) "nanograss" on the top, a water-soluble polymer in the middle and a superhydrophobic silicon nanograss film on the bottom. Nanograss consists of tiny needle-like projections sticking straight up. The team scratched the coating and submerged the material in water, which then seeped into the cut and dissolved the polymer. The top layer peeled off like shed skin and floated away, exposing the bottom, water-repellent film.
While additional work is needed to strengthen the top coating so that a scratch won't be able to penetrate all three layers, the researchers say it offers a new approach to creating self-cleaning and water-repellent materials.