PacifiCorp's long-term energy plan issued in early April includes building new transmission lines, expanding energy efficiency initiatives, and building 1,100 megawatts (MW) of new wind projects, primarily in Wyoming, by the end of 2020.
Also included are planned upgrades to more than 900 MW of existing wind generating assets.
The upgrades include repowering turbines with larger blades and newer technology to generate more energy across a wider range of wind conditions.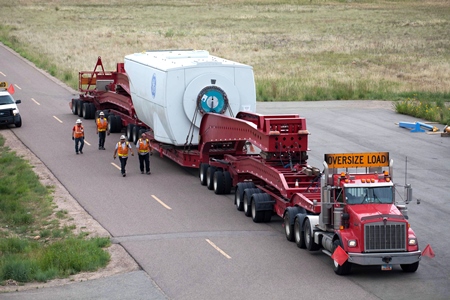 A specially configured truck carries a GE 2.75MW turbine weighing more than 96 tons. Credit: NRELThe math driving repowering can be straightforward: a 2 MW wind turbine coming off the production line today with a rotor diameter of 80 meters can generate up to six times the electricity as a 500-kilowatt turbine with a 40-meter rotor built in 1995.
By moving to complete the wind upgrades and new wind developments, PacifiCorp says it will be able to use federal production tax credits and provide what it says will be a "net savings for customers over the life of the projects."
Repowering existing wind projects to boost their generating capacity may become more common as operators work to take advantage of federal tax credits and improved technology.
For example, NextEra Energy last August announced plans to repower a pair of wind facilities in Texas totaling 327 MW for roughly $250 million. In a conference call,company executives said they hoped to replicate that strategy across its wind holdings to capture federal production tax credits for repowered wind plants.
And work is underway by San Diego-based renewable energy company Salka to repower a former Altamont Pass wind farm by replacing 569 100-kW turbines with 27 modern turbines for a total generating capacity of around 55 MW. Completion and operation or the Summit wind project is planned for late 2017 or early 2018.
Technology Improvements
"The technology continues to improve, and newer-model turbines can likely squeeze out an additional 20% or more energy per year than early 2000's-vintage models from the same wind resource," says Chris Namovicz, team leader for Renewable Electricity Analysis at the U.S. Energy Information Administration, in an email. Upgrades can help lift capacity factors to the 40% range, rather than the 30% range typical of older turbines, he says.
What's more, the Internal Revenue Service issued guidance in June 2016 to clarify rules for repowered wind plants to obtain the federal Production Tax Credit. Some industry observers think the IRS rules may encourage additional repowering projects in the next few years.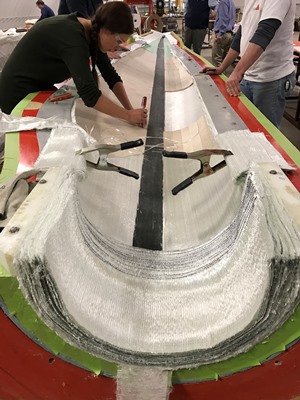 Composite manufacturing technicians work on a wind turbine blade mold at the Composites Manufacturing Education and Technology facility. Credit: Samantha Rooney / NREL)Namovicz says that wind plants generally do not have a specified life-span that would suggest an expected retirement date. While some plants from the 1970s or 1980s retired (or were abandoned) shortly after being built, this was likely the result of immature technology and incentive structures in place at the time. However, he says that a "substantial fraction of plants from that era are still around, and as best as I can tell are still using original equipment."
Analysis from the National Renewable Energy Laboratory (NREL) in 2015 suggested that wind power plants built in 1999 remain profitable after about 15 years of operations, but that both repowering and developing an adjacent greenfield could add additional value. After 20 years, however, the economics start to shift, with full repowering becoming more attractive than an adjacent greenfield sometime between 20 and 25 years of operation.
(In January, the National Wind Technology Center (NWTC) at NREL launched the Composites Manufacturing Education and Technology facility. With a focus on megawatt-scale wind turbine blade components, the facility allows partners to conceptualize and manufacture blade prototypes and turbine components and test those components onsite at the NWTC.)
Modeling Markets
When EIA models energy markets 20 or 30 years into the future, analysts generally assume that electric power plants will continue to operate as long as their operating revenue exceeds their going-forward costs for fuel and maintenance. Because wind incurs no fuel cost, it generally meets that test and is assumed to continue operating indefinitely. EAI data on O&M costs for wind are scarce, but "our best estimates and the limited available public data suggest that it is relatively low, at least relative to revenue available.
Namovicz says he estimates that of the roughly 2,300 MW of wind capacity installed in the U.S. prior to 1999, about 1,800 MW remains in service. Of that 1,800, about 1,500 MW appear to be using their original equipment (the oldest being from 1981). He says that some of the "missing" capacity from that 2,300 MW could have been absorbed into other wind plants, and is now reported under a plant with a different online year.