New textiles from NASA's Jet Propulsion Laboratory in Pasadena, CA, are fashioned for out-of-this-world service. The space fabrics have a chain mail-like appearance and could be used for large antennas and other deployable devices because the material is foldable and its shape can change quickly. The fabrics could also eventually be used to shield a spacecraft from meteorites, for astronaut spacesuits or for capturing objects on the surface of another planet.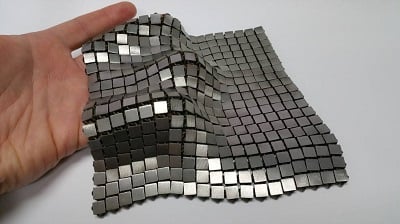 This metallic "space fabric" was created using 3-D-printed techniques that add different functionality to each side of the material. Image credit: NASA/JPL-Caltech
The metallic fabrics are 3-D-printed with geometry and multiple functions in mind. Reflectivity, passive heat management, foldability and tensile strength are the four essential functions incorporated into the material. One side of the fabric reflects light while the other absorbs it, acting as a means of thermal control. It can fold in many different ways and adapt to shapes while still being able to sustain the force of pulling on it.
The ability to manufacture such fabrics in space is envisioned, enabling astronauts to print materials as they're needed—and even recycle old materials, breaking them down and reusing them. Conservation is critical when you're trapped in space with just the resources at hand.
Technology to program function into material during the printing process could revolutionize the way spacecraft are engineered. Instead of having to assemble something with dozens of parts, all of which create potential points of failure, the spacecraft of the future could be created "whole cloth"—and with added function, as well.