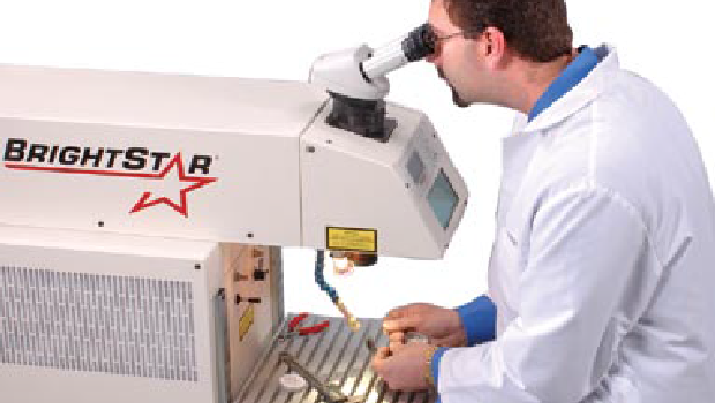 Because the heat generated at the weld point is localized, a machine operator can handle the material being worked on with their fingers.
Once upon a time, eyeglasses were repaired using traditional methods such as solder and fusion welding. Enter the fast-growing technology of manual laser welders, which allow repairs to be performed quickly and inexpensively. LaserStar Technologies offers a range of these machines, all manufactured in the U.S.A.
Lasers produce a sharply focused beam of hot light to melt a very small area of metal, making it possible to weld together both similar and dissimilar alloys; the molecular structure is reconfigured at the weld point, allowing two alloys to become one. This process normally occurs in milliseconds, without damage to the welding surface. Lasers can be used to repair a broken bridge, pad arm, temple, end piece, standard or spring hinge or base metal. They can also be used to reflow solder.

Laser welding became applicable to eyeglass repair thanks to the development of the "free-moving" concept, in which a stationary infrared light pulse is targeted through the internal cross-hairs of a stereo-microscope. The pulse, which is activated via foot pedal, can be controlled in both size and intensity. This allows for welds at pin-point accuracy, eliminating the need for costly fixturing devices while increasing the range of assembly and repair applications. Some systems also offer the option of a cover gas, such as Argon, to ensure a homogeneous weld while preventing any discoloration or contamination.
Although a solid understanding of the metallurgic properties of the materials being welded allows for machine operators to take full advantage of the system's potential, most operators can learn to use laser welding machines within a few hours. An experienced technician can typically repair the broken item within minutes.
For more information on LaserStar's line of manual laser welders, including sample eyeglass repair photos, click
here
.