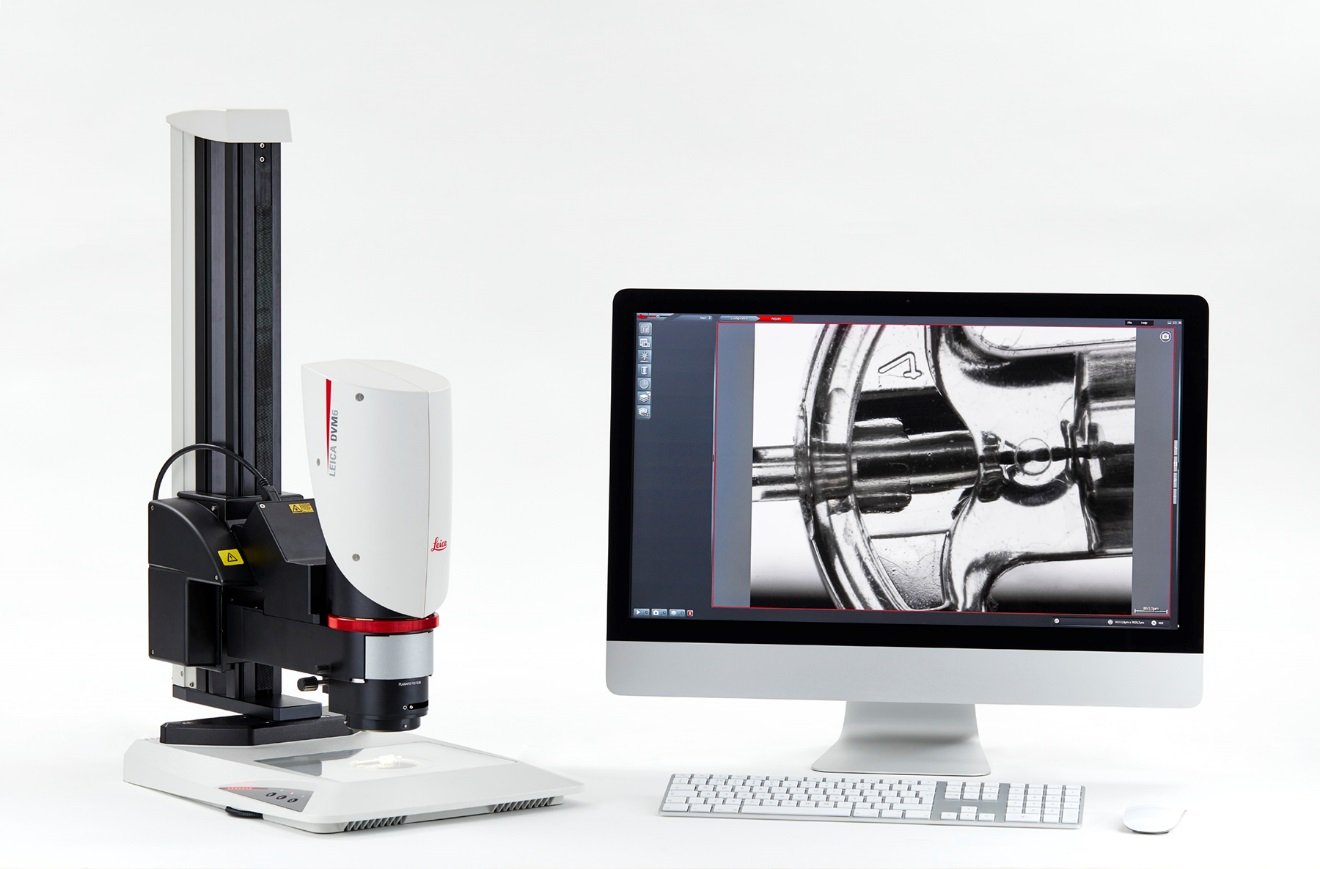 Figure 1: Leica DVM6 M used for inspection of a syringe.Sponsored story
Medical device manufacturing (MDM) is a highly-regulated industry. Manufacturers must meet rigorous quality and reporting standards that cover every stage of the development cycle, from initial development to volume production.
These requirements stem from the strict guidelines issued by the U.S. Food & Drug Administration (FDA) and similar agencies in other countries. The FDA, for example, requires manufacturers to implement a quality management system that meets the quality system regulation (QSR) for all medical devices listed in 21 CFR Part 820. The quality management system requirements cover a broad range of areas, including production and process controls, corrective and preventive actions, product development, and management.
The comprehensive list of devices in 21 CFR Part 820 includes such staples as medicated stents, catheters, pacemakers, orthopedic implants, implantable devices such as insulin pumps, medical guidewires, angio balloons, and more. All covered devices must undergo a similar process of design verification, assembly, quality assurance, inspection, and defect analysis.
Microscopes play a key role in documenting regulatory compliance at all stages of the manufacturing process, from initial development to volume production. Because out-of-spec parts could have fatal consequences, medical devices must undergo 100% visual inspection to make sure that each product is fully compliant and free of any surface imperfections.
Critical parameters for stents, for example, include surface roughness, width, feature shape, and the device radius of curvature of the devices; medical guidewires are scrutinized for correct size, length, stiffness, and tip shape; and inspections of orthopedic devices must ensure that the shape and roughness are within strict limits. Microscopes also play an important role in quality assurance and quality control (QA/QC) work during development, and even after products leave the factory. For example, in the analysis of field failures.
Comparison Between Traditional and Digital Microscopes
There are two main technologies used in MDM microscopes.
A traditional microscope uses visible light and a system of lenses to magnify images. Lenses themselves date back to 10th century Arab opticians, but the first compound microscope is credited to Dutch spectacle maker Zacharias Jansen in the late 16th century.
Fast forward through several centuries of development, and we arrive at modern times with a range of stereo and upright microscopes from which to choose. The Leica DM4 M, for example, is widely used for MDM routine inspection and features up to seven selectable objective lenses, a range of contrast modes, LED illumination, and a screen that displays all microscope settings. Modern optical microscopes have also been developed to integrate digital cameras and provide the flexibility of viewing through both the eyepieces as well as on a monitor or computer screen.
In a digital microscope, the user does not view the image directly through an eyepiece. Instead, a digital camera captures the image and displays it on a computer monitor. Digital microscopes can be partly or wholly computer-controlled, with various levels of automation, while providing superior ergonomics, allowing rapid viewing of samples and the ability for multiple users to view the same image simultaneously. Imaging software can store user profiles, making for fast changeover from one operator to another. The software can also save image parameters with the image itself, which makes reproducible results and reporting a one-click operation. Customized report templates can also be generated for specific users or applications.
Low-end digital microscopes are widely available for consumer use, but don't have the quality, options, ease-of-use, or software that come with a premium instrument.
Microscope Imaging Software
Software plays a crucial part in digital and automated optical microscopy and simplifies measurement and analysis of digital images.
The Leica Application Suite (LAS) includes multiple tools for precision measurement, which are configurable to fit specific user requirements. The standard package includes tools for measuring line thicknesses, adjusting colors, and adding comments and labels. A measurement and analysis module enables a convenient comparison of current and previous images.
Optional modules allow the addition of time-saving tasks such as continuous display of the live image with overlaid measurement data. Other options include 3D image measurement and analysis, in addition to allowing for multi-user operation with access level management.
LAS X is the newest comprehensive software suite for inspection and measurement. Ongoing software updates ensure that users of Leica microscopes stay up-to-date without having to replace their hardware.
Picking the Right Microscope for Your MDM Application
When selecting your microscope these questions can help you decide on the best solution:
Do you need the microscope for inspections only, or do you also need to document and report? Depending on the answer, the best solution may be pure optical, optical with camera, or digital.
Is 2D analysis enough or is 3D analysis also required?
What are you imaging? Do you need magnification up to only 50x (stereo), or 100x or more (compound & digital)?
How long will users work on the microscope each day?
User preference: are users okay working with digital-only images (pure digital microscope) or are they more confident looking through eyepieces (optical microscope with camera)?
Traditional Microscopes
Many users are more familiar with the operation of traditional optical microscopes than their digital counterparts, so that may be the first option you consider.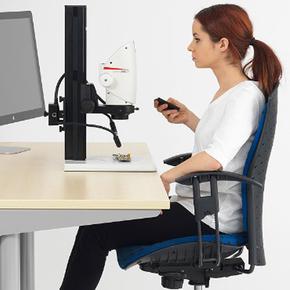 Figure 2: Digital output to a monitor or computer enables heads-up inspection for improved productivity.If your microscopy needs are varied, traditional microscopes can accommodate the largest number of techniques: bright field, dark field, and oblique illumination; dispersion staining; contrast techniques such as phase contrast and differential interference contrast (DIC); fluorescence; polarized light; and more. There are a wide variety of stands, lighting systems, and levels of remote control, ranging from fully manual to fully automated.
For traditional microscopes in the medical device industry, ergonomics is key. Inspecting products for conformance is a continuous part of the job, so the operator is spending long periods of time looking through the eyepiece.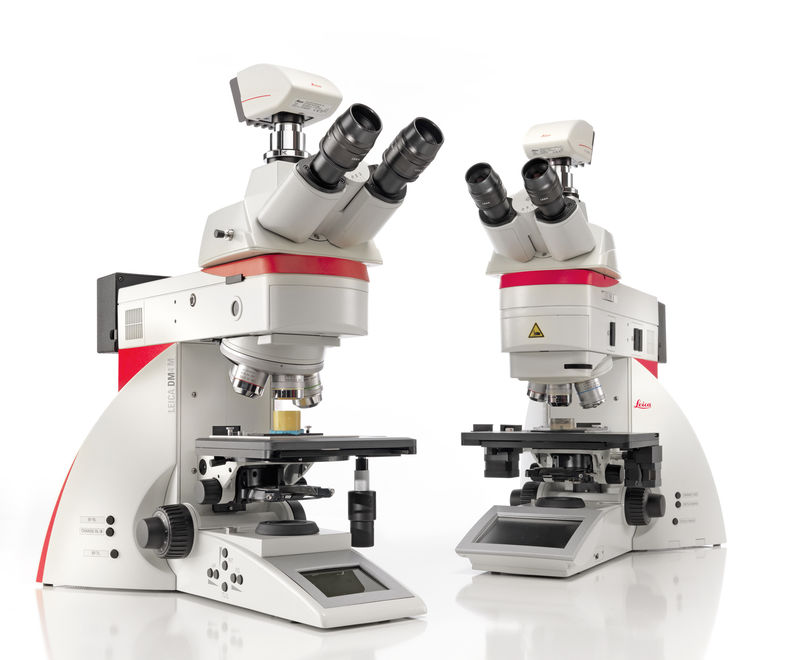 Figure 3: DM4 M and DM6 M automated upright microscopes from Leica Microsystems for materials science and materials analysis.
In this environment, an ergonomically-correct microscope setup is important. Maintaining a static position that strains the musculoskeletal system can lead to fatigue and an increased incidence of occupational injury: in some studies, up to 80% of microscope users have reported low-back pain, neck pain, or tension headaches. For the employer, that translates into lost production, increased employee turnover, and greater insurance costs.
Make sure that the microscope you're considering offers a range of ergonomic accessories to accommodate a wide variety of operators. Being able to store and recall the settings for multiple operators can be a big time-saver in a flexible work environment.
Leica's traditional product line includes many models, but two microscopes are best suited to the most common MDM applications.
The DM4 M is a cost-efficient choice for manual routine inspection, and the DM6 M offers computer control with stepper-motor drives for tasks such as automated material analysis or clean room operations. Both microscopes offer a rotating nose piece with up to seven objective lenses and the ability to save and share microscope and camera settings.
The table below shows a comparison of the main specifications; a more complete description can be found on Leica's website.

Digital Microscopes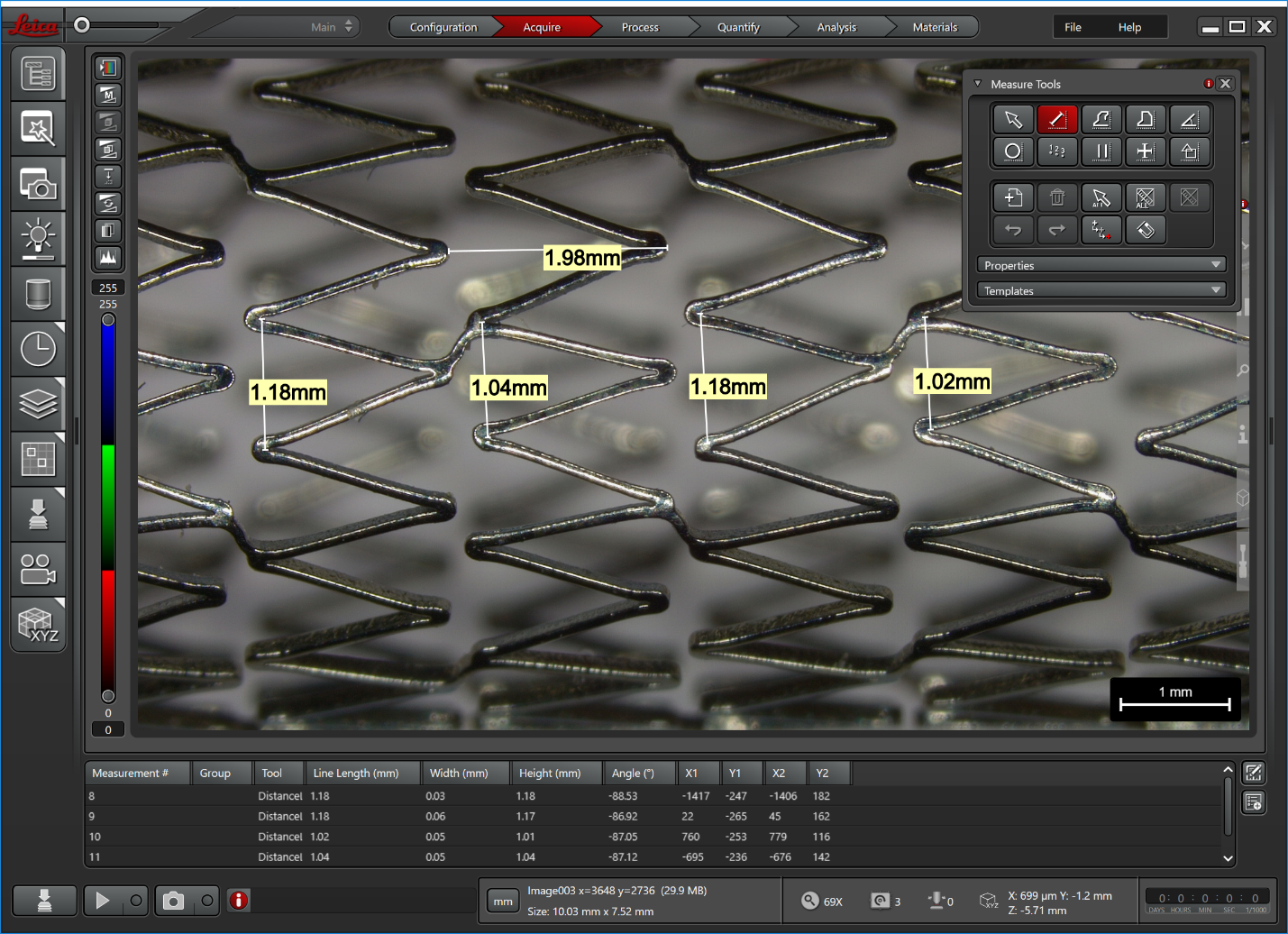 Figure 4: Inspection image and measurements of a stent taken with a Leica S9i using LAS X software.Digital microscopes are ideal for fast visual inspection, and ergonomics aren't an issue since the image is displayed on a high-definition screen, enabling the user to perform inspections "heads-up." They're easy to use, but the number of options in the fuller-featured imaging software might be a little overwhelming at first.
As with optical microscopes, you have many choices. If you need rapid acquisition of high quality digital images, you will benefit from a high-resolution digital camera. For fast live image display for high sample throughput, look for a camera with at an update rate of 30 frames per second (fps) or greater.
Do you need to look at samples from various angles? If so, a microscope that allows the head to be tilted or one with a rotating sample stage is essential for dynamic viewing of processes or objects.
Do you need a balanced image, showing both bright and dark sections clearly? If so, you will need high dynamic range (HDR) functionality, which provides you with exactly this type of image.
The choice of software is a big factor, too. Do you need to analyze samples qualitatively and quantitatively? If so, you should carefully review the list of software functions that are supported.
Three Leica digital microscopes are particularly suited for MDM use: the DMS300 is ideal for QA and manufacturing inspection of 2D images; the DMS1000 allows inspection and measurement of both 2D and 3D images; and the DVM6, with three distinct models, meets the most stringent demands of laboratory R&D, failure analysis, and production QC/QA functions.
This table compares the features of three digital microscopes recommended for MDM use; a more complete description can be found on Leica's digital microscope page.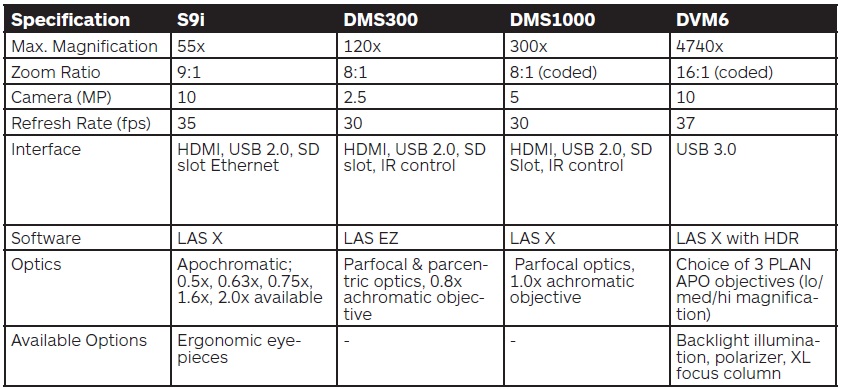 Conclusion
Both traditional and digital microscopes are key elements in the development and production of medical devices. Understanding the different technologies and options available is key to making the right choice for your application.
Leica offers a wide range of traditional and digital microscopes well-suited for MDM applications. Reach out today to find the right microscope solution for your specific needs at leica-microsystems.com.