The oil and gas industry moves past the unconventional oil and gas revolution with an ever-increasing toolset of oil extraction technologies. To increase the estimated ultimate recovery (EUR) and boost efficiency, pre-fabricated perforating systems, seawater-based fracturing fluids, disintegrating frac plugs, electric downhole safety valves and RFID-enabled stimulation systems highlight the latest advancements.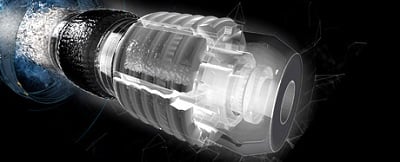 Image credit: Baker Hughes Incorporated
Pre-Fabricated Perforating Systems
Perforating the line or casing in a multistage fracking operation traditionally required remote gun loading facilities. The perforation system was assembled and permitted on site with a wire-line detonator.
DynaEnergetics factory-assembled well perforating systems mitigate these needs while featuring intrinsically safe, wireless detonators that are inserted into the top of the unit at the well site reducing the risk of misruns and misfires.
Without the need to re-open, wire and permit explosives, the system reduces completion time significantly improving the return on investment.
The systems are available in a variety of sizes from 2 3/4" to 3 3/8" in diameter making the DynaStage™ product line compatible with all primary well configurations in use by North America's on-shore, unconventional oil and gas industry. Tailor made systems are also available to address specific phasing, shot density, charge type and gun length requirements.
Seawater-Based Fracturing Fluids
To address water availability in offshore fracking operations or in areas where fresh water supply is limited, Schlumberger is now offering seawater-based fracturing fluids. Their UltraMARINE seawater-based fracturing fluid simplifies operations and can be used with brackish water as well.
The fluid optimizes viscosity at bottom-hole conditions and is designed for enhanced thermal stability with a bottom-hole temperature range of 175° F to 325° F.
To mitigate the risk of scale precipitation, the fluid acts as a pH buffer. It has high tolerance to salt content and has been tested in waters with total dissolved solids (TDS) in excess of 100,000 ppm.
Disintegrating Frac Plugs
Extended reach wellbores, multistage plug and perforation completions and depleted wells complicate frac plug operations in unconventional oil and gas wells. Baker Hughes disintegrating frac plugs help lower risks and accelerate completion times as the entire plug, body and packing element fully disintegrate downhole in the presence of wellbore fluids.
The SPECTRE™ frac plug alleviates concerns with plug debris left behind between frac stages. It ensures a full-bore ID without intervention all the while offering the same flexibility in stage placement as experienced with a traditional composite plug.
Electric Downhole Safety Valves
Halliburton recently introduced the industry's first electric downhole safety valve (e-DHSV). Their EcoStar™ Electric Tubing-Retrievable Safety Valve eliminates hydraulic fluid to enable a fully electric completion system with zero risk of exposing electronics.
The electric safety valve retains the same failsafe mechanism as conventional safety valves with zero risk of exposing electronics to produced wellbore fluids.
RFID-Enabled Stimulation Systems
Offshore reservoirs are characterized as extreme environments that impose increased demands on lower completion tools. Weatherford's AutoFrac® RFID-enabled stimulation system meets these demands.
The innovative AutoFrac® system provides efficient stimulation of open-hole sections of extended-reach offshore wells with unprecedented reliability. It eliminates the need for control lines or mechanical actuation of lower completion tools, thereby reducing total completion costs and achieving reliable results where traditional technologies have failed.
Conclusion
Extended reach well-bores, offshore fracking operations, rapid decline rates and dwindling rig counts stressed North American oil operations. Operators that survived the downturn in the unconventional oil and gas revolution embraced change and met demands by efficiently deploying technology enhancements, enhancements that defy what was once possible and as rig counts rebound they are deployed with the new toolset. Operators are able to accelerate completion times and minimize intervention. They address challenges with a forward thinking attitude where anything is possible and nothing is left behind.
Resources
DynaEnergetics Expands Family of DynaStage™
UltraMARINE Seawater-Base Fracturing Fluid
SPECTRE Disintegrating Frac Plug
Weatherford RFID-Enabled Stimulation System Wins OTC Spotlight on New Technology Award