Aquatic Diversity and Water Quality According to Algal DNA
S. Himmelstein | April 20, 2017
DNA collected in aquatic environments represents a useful biotic metric for assessing biodiversity as well as water quality conditions. Diatoms, unicellular algae surrounded by a silica skeleton, are recommended by the European Union and Switzerland as ideal bioindicators for rivers and lakes.
The quality and ecological status of rivers in Switzerland are evaluated with the help of the Swiss Diatom Index (DI-CH). However, researchers from the University of Geneva note that the morphological identification of different species in each water sample precludes rapid and reliable bioassessment required to protect aquatic environments. An alternative is to establish a water quality index based solely on DNA sequences of diatoms present in the samples, without needing to identify each species visually.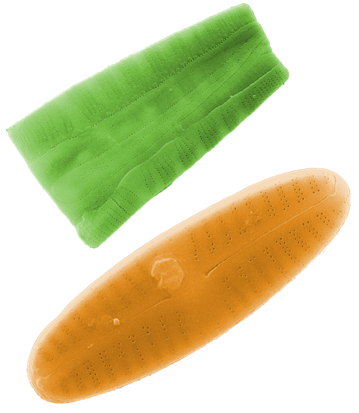 The alga in green is present in clean environments, while the orange one lives in more polluted water.
In collaboration with the Geneva Water Ecology Service (SECOE) and the PhycoEco environmental office in La Chaux-de-Fonds, Switzerland, the researchers analyzed about 90 samples from different rivers in Switzerland and determined their ecological status using the DI-CH. They have thus established a reference system in order to validate the molecular index under development. The latter is based on the DNA sequences characteristic of all the diatom species that may be present in these samples.
The researchers explain: "The whole range of DNA sequences revealed in each sample corresponds to a specific DI-CH quality index. Furthermore, each sequence identified has a different distribution and is detected in variable amounts from one sample to another. By integrating all these data, we were able to calculate an ecological value for each sequence, without having to identify the species to which it belongs."
The approach makes it possible to determine the quality of water using all of these ecological values. The synchronous processing of a large number of samples in record time and at a reduced cost is a major advantage of the molecular index, which could easily be adapted to other groups of unicellular bioindicators.