Video: Battery and Jet Engine Hybrid are California's New Power Couple
S. Himmelstein | April 18, 2017
General Electric has delivered the world's first battery-gas turbine hybrid system to Southern California Edison (SCE) in Norwalk, CA. The LM6000 Hybrid Electric Gas Turbine (Hybrid EGT), the first of two to be deployed at SCE sites, was developed in response to changing regulations and grid requirements in the wake of the devastating gas leak from California's Aliso Canyon storage facility.
The technology will ultimately support increasing renewable energy capacity on the California grid by providing quick start, fast ramping capabilities as needed. The unit integrates a 10 MW/ 4.3 MWh lithium-ion battery energy storage system capable of immediately providing power with GE's proven 50MW LM6000 aeroderivative gas turbine.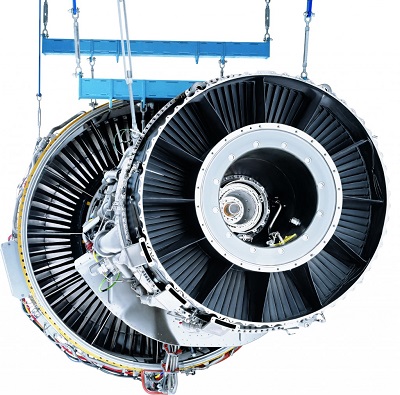 The LM6000 aeroderivative gas turbines are essentially a ground-based version of GE's popular CF6 jet engine — the same engine that powers many Boeing 747s, including Air Force One. (Image credit: GE Reports/GE Aviation)
Battery energy storage capacity has been specifically designed to provide enough time coverage to allow the gas turbine to start and reach its designated power output. As a result, the system does not need to burn fuel and consume water in stand-by mode to be able to dispatch power immediately when demand surges.
The unit can provide 50 MW of greenhouse gas-free spinning reserve, flexible capacity, and peaking energy; 25 MW of high-quality regulation; and 10 MVA of reactive voltage support and primary frequency response when not online.
In line with the state's plan to derive 50% of its electricity from renewable sources by 2030, the Hybrid EGT will balance variable energy supply and demand. This service is particularly important during evening hours when the sun sets and solar power production falls while electricity usage surges as customers return home and turn on lights and appliances.
Along with new emission controls, the hybrid system provides enhanced flexibility in the operation of the peaker while at the same time reducing greenhouse gas emissions and air pollution by 60%. In addition, demineralized water consumption will be reduced by approximately 45%, saving two million gallons of water annually and increasing the life of the equipment.