When Job is Done, Orthopedic Implant is Absorbed by the Body
S. Himmelstein | April 18, 2017
A nontoxic, biodegradable orthopedic implant under development at Purdue University, IN, could eliminate the need for a second surgery to remove conventional hardware.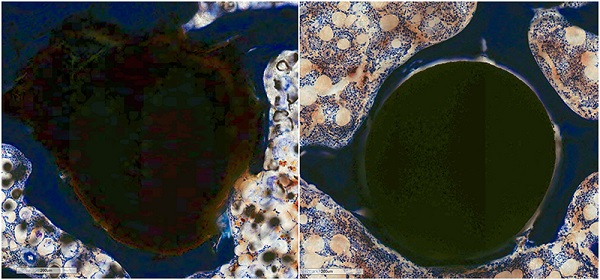 A histologic cell image (left) of the Purdue-developed metal pins in-vivo in which the metal is being resorbed by surrounding tissue. On the right: conventional metal pins that are not effectively resorbed by the body. Image credit: Marine Traverson and Gert Breur/Purdue College of Veterinary Medicine
Unlike available implants composed of stainless steel and titanium alloys, the re-engineered implant is highly porous, which promotes optimal vascular growth and provides a way for cells to absorb the material. The magnesium used in current resorbable metals, which degrades quickly, is responsible for various adverse side effects. The Purdue implant instead is based on manganese, which demonstrates a good corrosion rate over time. Another benefit of manganese: degradation rates can be controlled from 22 mm per year to 1.2 mm per year.
The researchers can de-alloy the implant surface to stimulate cell colonization and growth, as well as control cell attachment proliferation.