The Advanced Robotics for Manufacturing (ARM) Institute held its kick-off meeting on April 12th and 13th at the National Robotics Engineering Center in Pittsburgh, PA. The meeting was attended by over 200 people from different organizations representing academia, industry and the public sector.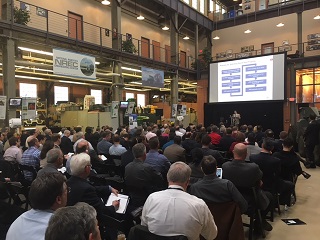 ARM Institute Meeting at National Robotics Engineering CenterMayor William Peduto of Pittsburgh gave a few remarks to start the meeting. The mayor, when talking about Pittsburgh's rich manufacturing history as one of the early technology disruptors, said "we respect the past and merge with the future to help change the world in a positive way for all people."
Greg Hudas, Program Manager with the Department of Defense, gave an overview of the Manufacturing USA initiative. The ARM Institute is part of this wider national initiative that connects fifteen technology institutes ranging in areas of focus, including photonics, smart manufacturing, fibers and textiles, additive manufacturing, electronics manufacturing, metals, bio-pharmaceutical and more.
The mission of the ARM Institute was presented by Gary Fedder, Vice Provost for Research at Carnegie Mellon University and acting CEO of the ARM institute. He explained that the mission of the institute is to assert the United States as a leader in advanced manufacturing while empowering American workers to compete in a global marketplace. Another goal of the institute is to lower the operational and economic barriers for start-ups, small, mid-sized and large companies to adopt robotics technologies in their manufacturing operations.
Universities and colleges that were represented included Auburn University, Carnegie Mellon, Clemson University, Duke University, Northwestern University, Purdue, Oregon State, Rensselaer Polytechnic Institute, University of Connecticut, University of Southern California, University of Washington, Westmoreland County Community College, Worcester Polytechnic Institute and more.
Companies and government agencies in attendance included ABB, Airbus, Amazon Robotics, Caterpillar, Deloitte, Duro UAS, General Electric, HEBI Robotics, IEEE GlobalSpec, NIST, Northrop Grumman, RE2 Robotics, Schlumberger, Siemens, Step Tools, United States Air Force, United States Navy, United Technologies and more.
To learn more, visit the ARM Institute website: http://www.arminstitute.org/