Saudi Arabia Eyes 10% Renewables in Pivot from Fossil Fuel
David Wagman | April 17, 2017
Saudi Arabia wants 10% of its electricity to come from renewable sources within several years as part of a transformation in its power sector, the energy minister said April 17.
Khaled al-Falih said his country will also sell renewable energy and its technology abroad.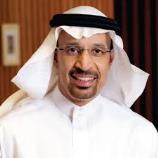 Khaled al-FalihHe opened bids on the first 300 megawatt solar plant proposed under the renewables plan. The government has invited 51 firms, most of them from abroad, to bid on that plant and a separate 400 MW wind farm.
At a forum seeking investment in the sector, he announced 30 projects in order to reach the goal of about 10 gigawatts of renewable energy production early next decade. That would be a change from the current generation mix. Almost all of the kingdom's domestic power currently comes from crude, refined oil, or natural gas.
"We are seeking for the kingdom, in the medium term, to become a nation that develops, manufactures and exports the advanced technologies of renewable energy production," he was quoted by news agencies as saying.
Falih said the energy sector is being completely restructured to include an autonomous board of regulators, and with privatized generation capacity.
Another wind project will be launched in the fourth quarter of this year, followed by more solar projects, he said. Falih also said that nuclear power would be part of the kingdom's future energy mix.