Investigating causes of and treatments for Parkinson's disease requires access to human brain cells, which are understandably difficult to secure ethically. The transformation of human stem cells in petri dishes by researchers from Luxembourg Centre for Systems Biomedicine of the University of Luxembourg is expected to provide a suitable stand-in for the real thing.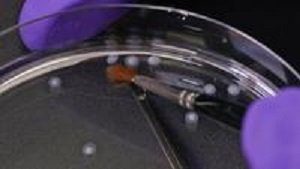 Tiny 3-D cultures of cerebral tissue derived from stem cells behave similarly to human midbrain cells. Image credit: scienceRELATIONS/University of Luxembourg
The researchers turned human stem cells derived from skin samples into 3-D, brain-like cultures that behave very similarly to cells in the human midbrain. After administration of a "precisely defined cocktail of growth factors" and treatment methods, pluripotent stem cells in the petri dishes multiplied and spread out into a 3-D supporting structure, producing tissue-like cell cultures.
Development of different cell types characteristic of the midbrain was observed, as was the ability of cells to transmit and process signals. One of the researchers said: "On our new cell cultures, we can study the mechanisms that lead to Parkinson's much better than was ever the case before. We can test what effects environmental impacts such as pollutants have on the onset of the disease, whether there are new active agents that could possibly relieve the symptoms of Parkinson's—or whether the disease could even be cured from its very cause. We will be performing such investigations next."
In addition to benefitting studies on neurodegenerative diseases, the development of the brain-like tissue cultures can also help reduce the amount of animal testing in brain research. The cell cultures in the petri dishes are of human origin, and, in some aspects, resemble human brains more than the brains of lab animals such as rats or mice. The structures of human brains and modes of function can be modeled in different ways than is possible in animals.
The researchers have also launched a spinoff to advance technologies to provide the cultures for a fee to other labs or the pharmaceutical industry.