Video: Solar-driven MOFs Harvest Water from Arid Atmospheres
S. Himmelstein | April 17, 2017
Supplying freshwater in arid regions may require only the availability of sunlight and metal-organic frameworks (MOFs). A solar-powered harvester designed at MIT and incorporating MOFs produced at the University of California, Berkeley, has been demonstrated to produce water under low humidity conditions.
The prototype extracted 2.8 liters (3 quarts) of water from the air over a 12-hour period , under conditions of 20 to 30 percent, using one kilogram (2.2 pounds) of MOF. Rooftop tests at MIT confirmed that the device works in real-world conditions.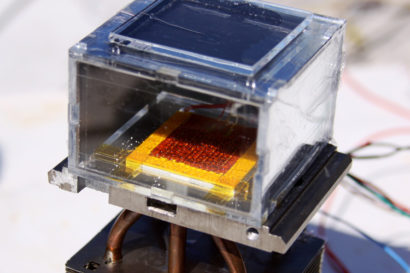 The harvester uses sunlight to heat the MOF, driving off the water vapor and condensing it for use. (MIT photo by Hyunho Kim)
MOF crystals composed of zirconium metal and adipic acid are compressed between a solar absorber and a condenser plate. The system is placed inside a chamber open to ambient air, which diffuses through the porous MOF. Water molecules then preferentially attach to the interior surfaces of the MOF structure. X-ray diffraction studies have shown that the water vapor molecules often gather in groups of eight to form cubes.
Sunlight heats up the MOF and drives the bound water toward the condenser, which is at the temperature of the outside air. The vapor condenses as liquid water and drips into a collector.
The MOF tested absorbs only 20 percent of its weight in water, but other MOF materials could possibly absorb 40 percent or more. The material can also be tweaked to be more effective at higher or lower humidity levels.