U.S. academic researchers are one step closer to dealing a blow to heart disease, which the American Heart Association says is the No. 1 cause of death in the U.S. Laser-based 3D-bioprinting techniques were used to develop a patch that can help heal scarred heart tissue after a heart attack.
The 3D-bioprinting techniques were used to incorporate stem cells derived from adult human heart cells in a matrix that began to grow and beat synchronously in a laboratory dish.
After the cell patch was implanted in a mouse following a simulated heart attack, a significant increase in functional capacity was observed after just four weeks. Composed of cells and structural proteins native to the heart, the patch became part of the heart and absorbed into the body, requiring no further surgeries.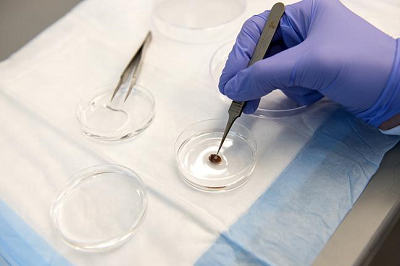 The 3D-bioprinted cell patch is shown in comparison to a mouse heart. (Credit: Patrick O'Leary, University of Minnesota)
Unlike previous research in this field, the patch is modeled after a digital 3D scan of the structural proteins of native heart tissue. The digital model is translated into a physical structure by 3D printing with proteins native to the heart and further integrating cardiac cell types derived from stem cells. The approach achieves the one micron resolution needed to mimic structures of native heart tissue.
The next step is to develop a larger patch for testing on a pig heart, which is similar in size to a human heart.
Scientists from University of Minnesota-Twin Cities, University of Wisconsin-Madison, and University of Alabama-Birmingham participated in the research.