In its drive to lead in electric vehicle and other mobility solutions, Ford has unveiled its Police Responder Hybrid Sedan. The second of 13 new electrified vehicles planned for introduction in the next five years is deemed the industry's first pursuit-rated hybrid police car. This means the car is certified by police agencies to be tough enough to handle police pursuits for longer periods at different speeds and over obstacles such as curbs and flooded intersections.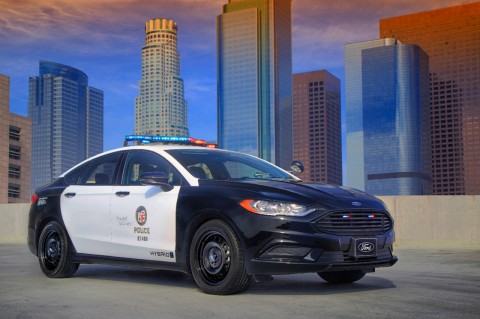 Ford, which has garnered a 63 percent market share of police vehicle sales in the U.S., equipped the Police Responder Hybrid Sedan with an efficient Atkinson-cycle 2.0-liter engine and an electric motor fed by an advanced lithium-ion battery. The hybrid is calibrated for law enforcement's unique duty cycle and will run in battery-only mode up to 60 mph (97 km/h). The car automatically switches to maximum performance, with the engine and battery working at peak acceleration levels, when needed.
Both fuel and emissions savings are promised for urban police departments. While driving, Ford's patented hybrid technology is projected to provide EPA-estimated combined gas mileage of 38 mpg—more than twice that of today's Police Interceptor with 3.7-liter V6 with EPA-estimated 18 mpg combined. Final EPA-estimated ratings are not yet available.
In idle mode, the lithium-ion battery helps power the high electrical loads of a police vehicle, reducing engine run time and saving an estimated 0.27 gallons of fuel per hour. Police Responder Hybrid Sedan customers could see nearly $3,900 a year in potential fuel savings per vehicle relative to the Police Interceptor, if a police vehicle is driven 20,000 miles per year, runs two shifts per day, 365 days per year, idles 4.9 hours per 8-hour shift and is fueled at an average gas price of $2.50/gallon.
The police vehicle is making its debut in Los Angeles and New York City. This year, Ford also is testing a fleet of 20 Transit Connect hybrid taxi and van prototypes in demanding traffic conditions in New York and several other major U.S. cities.