An approach for non-destructive testing (NDT) that pinpoints hidden damage in metals can provide an economical means for inspecting bridge, airplane, or ship integrity. A laser-based technique developed at Brigham Young University, UT, offers such a method for detecting metal fatigue and stress.
Available NDT techniques for inspecting materials include X-ray imaging, which can detect microscopic cracks in metals. This method is expensive, requires shielding from the X-rays, and is hard to adapt for use in the field. Other NDT options give equivocal results and require highly trained technicians.
The new technology uses a spectroscopic method known as second harmonic generation (SHG), which alters the wavelength of light. By shining green laser light onto a metal sample, some of the incoming light is converted into ultraviolet light, which bounces back from the metal along with the remaining green light. The amount of conversion depends on the metal's properties, so that stress-induced changes of those properties can be detected in the converted light.
Tests to date indicate the technique could distinguish between metal parts that are still intact and those that have been irreversibly damaged and require replacing. The researchers say their method is more sensitive than existing NDT techniques and could thus give earlier warning of danger.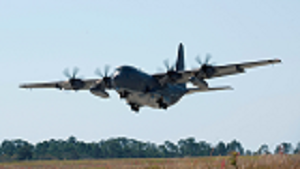 The new damage-testing method might have saved an Air Force AC-130J Ghostrider from the scrap heap after the plane was accidentally flown upside down. (Credit: U.S. Air Force)
Applications in the aerospace industry, where plane parts are routinely replaced after a certain amount of use to avoid catastrophic failure, are envisioned. The SHG method could be used to check whether a particular component is really worn out or still has useful life, leading to savings in time, money, and material. Oil pipelines and building components could also be evaluated with the technology.
The SHG method could have proven useful in the case of a U.S. Air Force plane that was unintentionally turned upside down in flight, a feat it wasn't designed for. The maneuver exceeded the specifications for the plane's stress tolerance, but there was no way to know if the inversion had actually damaged components enough to cause the plane to crash during a future flight. So the entire multimillion-dollar plane had to be scrapped.
The researchers are working on a portable version of the SHG system, as well as applications with the U.S. Navy. The aluminum/magnesium alloy used in naval vessels can undergo invisible corrosion with serious consequences.
The research was presented at 253rd National Meeting & Exposition of the American Chemical Society in San Francisco on April 5.