Energy Leaders Acknowledge Disruptive Change, Survey Says
David Wagman | April 07, 2017
A survey highlights shifting priorities in the energy sector with an increasing focus on a lower carbon future. Disruptive technologies including renewable energies and energy efficiency are impacting top action priorities for energy leaders globally in 2017.
In its eighth year, The World Energy Issues Monitor 2017: "Exposing the new energy realities" published by the World Energy Council, provides a snapshot of the current priorities, facing global energy leaders.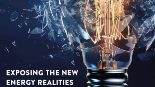 Renewables ranked high in impact within every region in a survey of more than 1,200 energy leaders in 95 countries. The report says that solar has undergone "immense growth" in installed capacity reaching 227 gigawatts by the end of 2015, while global wind power generation capacity increased at a rate of 17.2% in 2015.
Dr Christoph Frei, Secretary General of the Council said in a statement, "Our survey shows energy leaders face and acknowledge disruptive change." He says the Issues Monitor illustrates that innovation issues such as digitalization, decentralization, innovative market design or electric storage rapidly gain traction, "while a more difficult growth context and new physical and digital risks are posing ever greater threats to the energy sector."
Other findings include:
Commodity price volatility remains number one critical uncertainty
Shifts in geopolitical power due to a renewed focus on US policy, Brexit and uncertainty over EU cohesion
New physical and virtual risks - Cyber-attacks are posing ever greater threats to the energy sector
Talent acquisition and retention will become a major focus as new technologies continue to reshape the energy industry