Epilog G2 – An Air-cooled, Pulsed Fiber Laser for Laser Marking Applications
Roger Pink | March 31, 2017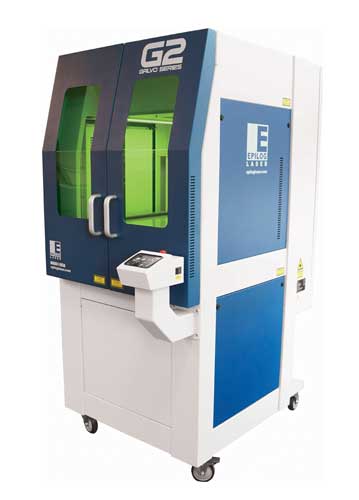 Epilog Laser has announced the addition of the G2, an air-cooled, pulsed fiber laser system, to its line of cutting and marking systems at the Industrial Manufacturing Technology Show (ITMS). The G2 is the first galvo laser system able to laser mark over large work areas without compromising engraving quality or requiring product indexing. Engraving at remarkably fast speeds over an adjustable engraving area that spans up to 24" x 24", the G2 is a step forward in laser marking technology.
Dual-pivoting mirrors make microscopic adjustments to direct the laser beam to the table creating marking speeds of 2m/sec. "We've combined the best of both worlds here," explains Mike Dean, vice president of sales and marketing for Epilog Laser. "The open architecture capabilities and larger marking area of our traditional CO2 and fiber systems with the lighting fast speed and precision of a galvo system. We're thrilled to have developed this exciting technology and make it available to manufacturers from across all industries."
To learn more, see Epilog's press release on the G2.