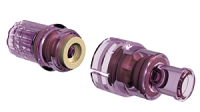 The valve mitigates IV dislodgment due to tension based events. Image credit: Linear Health Services
The Global Center for Medical Innovation, an Atlanta, GA-based medical device accelerator, has issued its first grant to Linear Health Sciences of Oklahoma City, OK, developer of the Orchid safety release valve designed to prevent dislodgment of IVs.
The grant will support final product refinements and testing procedures as the Orchid valve moves closer to commercialization and U.S. Food & Drug Administration clearance.
The Orchid valve will help reduce central lines, provide more efficient IV setups and decrease risk of dislodgment—saving hospitals money and time by avoiding additional procedures. It attaches to the luer fitting between the extension set and IV administration set. When a sudden force is applied to the line, the valve breaks away and seals off both sides of the line. To restart the flow of fluids, a new sterile Orchid safety release valve is attached to the line.
For patients, the device could offer fewer IV restarts and painful needlesticks. Nursing staff can realize greater efficiency by avoiding dislodgements and unscheduled IV restarts, and reduce exposure to sharps injuries and potentially infected blood. Hospitals can accrue cost savings due to more efficient use of nursing time and less need to replace entire IV setups because of accidental dislodgements. The new valve could also reduce potential for infiltrations, phlebitis, and healthcare-acquired infections.