IEA Report: Evidence for Decoupling of CO2 Emissions, Economic Growth
S. Himmelstein | March 20, 2017
The International Energy Agency reports that energy-related carbon dioxide emissions were flat for a third straight year in 2016 even as the global economy grew. The data signal continuing decoupling of emissions and economic activity. Growing renewable power generation, substitution of natural gas for coal, energy efficiency improvements, and structural changes in the global economy account for the flat emissions trend.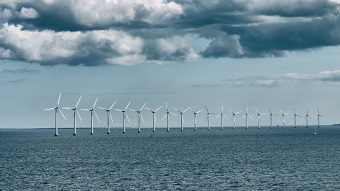 Renewables, coal-to-gas switching, and energy efficiency improvements contributed to stalling emissions growth in 2016. (Getty Images)
While the global economy grew 3.1%, global emissions from the energy sector are estimated at 32.1 gigatons – the same as the previous two years. CO2 emissions declined in the U.S. and China, the world's two-largest energy users and emitters, and were stable in Europe, offsetting increases in most of the rest of the world.
In the U.S., CO2 emissions fell 3%, or 160 million tons, while the economy grew by 1.6%. The trend is attributed to a surge in shale gas supplies and more attractive renewable power that displaced coal. U.S. emissions in 2016 were at their lowest level since 1992, a period during which the economy grew by 80%.
Renewable energy sources supplied more than half the global electricity demand growth in 2016, with hydro accounting for half of that share. The overall increase in the world's nuclear net capacity last year was the highest since 1993, with new reactors coming online in China, the U.S., South Korea, India, Russia, and Pakistan. Coal demand fell worldwide, and for the first time, electricity generation from natural gas was higher than from coal in the U.S.
In China, emissions fell by 1% in 2016 as coal demand declined while the economy expanded by 6.7%. Drivers of this trend include an increasing share of renewables, nuclear and natural gas in the power sectors, and a switch from coal to gas in the industrial and buildings sector promoted by government policies combatting air pollution. Electricity demand growth increased 5.4%, two-thirds of which was supplied by renewable energy.
Emissions were largely stable in the European Union as gas demand rose about 8% and coal demand fell 10%. Renewables also played a significant, but smaller, role. The UK saw a significant coal-to-gas switching in the power sector, thanks to cheaper gas and a carbon price floor.
While the pause in emissions growth is positive news to improve air pollution, it is not enough to put the world on a path to keep global temperatures from rising above 2°C. In order to take full advantage of the potential of technology improvements and market forces, consistent, transparent, and predictable policies are needed worldwide.