Deals Worth $65bn Floated as Saudi King Visits China
David Wagman | March 16, 2017
Saudi Arabia's King Salman oversaw the signing of deals worth potentially $65 billion on the first day of a visit to Beijing on March 16.
The Reuters news agency reports that the month-long visit to Asia aims to promote investment opportunities in the kingdom, including the sale of a stake in state oil firm Saudi Aramco.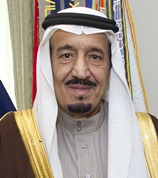 Saudi King SalmanDeputy Chinese Foreign Minister Zhang Ming said the memorandums of understanding and letters of intent were potentially worth about $65 billion, involving everything from energy to space, but offered no details.
Besides the MOUs, Reuters says that Saudi and Chinese companies signed 21 deals, ranging from exploring investments in oil and petrochemical plants to e-commerce and cooperating in renewable energy markets.
For Saudi Aramco, the potential investments fit with its strategy to expand its refining and chemicals portfolio in its bid to diversify assets and secure long-term agreements for its oil.
An MoU with state-run Norinco will look into building refining and chemical projects in China, while Saudi Basic Industries Corp. and Sinopec have agreed to develop petrochemical projects in China and Saudi Arabia.
Reuters says the Norinco deal could involve exploring a possible greenfield refinery and chemical plant in Panjin, Liaoning province, while also upgrading an existing refinery and petrochemical facility.