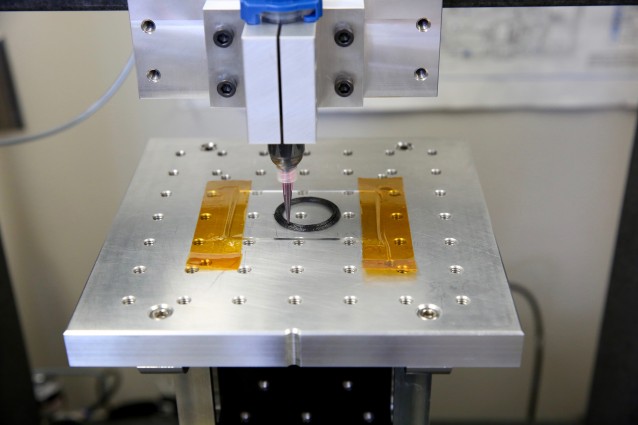 A carbon fiber composite ink extrudes from a customized direct ink writing 3D printer, eventually building part of a rocket nozzle. Image credit: Kate Huntes/LLNLAerospace-grade carbon fiber composites have been 3D-printed by U.S. Lawrence Livermore National Laboratory researchers, an advance that could lead to greater control and optimization of the lightweight, stronger-than-steel material.
Carbon fiber composites are typically fabricated by winding the filaments around a mandrel, or weaving the fibers together. These methods limit finished products to either flat or cylindrical shapes. Performance concerns lead fabricators to overcompensate with material, resulting in heavier, costlier parts.
The researchers report printing several complex 3D structures through a modified Direct Ink Writing 3D printing process. They also developed and patented a new chemistry that can cure the material in seconds instead of hours, and used the Lab's high performance computing capabilities to develop accurate models of the flow of carbon fiber filaments.
This technology for printing thermoset carbon fiber composites allows the fiber component of a resin and carbon fiber fluid to be aligned in three dimensions via controlled micro-extrusion and cured into complex geometries.
Computational modeling on supercomputers enabled engineers to simulate thousands of carbon fibers as they emerged from the ink nozzle and to optimize alignment during the process (see video).
The strong conductive material could be used to make high-performance airplane wings, satellite components that are insulated on one side and don't need to be rotated in space, or wearables that can draw heat from the body but don't allow it in.