India's Space Agency Launches 104 Satellites
Engineering360 News Desk | February 15, 2017
India's space agency put 104 satellites into orbit on February 15, reportedly the most in history, as it works to position itself as a destination for low-cost launches.
The Polar Satellite Launch Vehicle carried nanosatellites from seven countries when it took off at 9:28 a.m. from Sriharikota, a barrier island in southeastern India. These include 88 from San Francisco-based Planet Labs Inc. as well as others from Israel, Kazakhstan, Switzerland and the United Arab Emirates.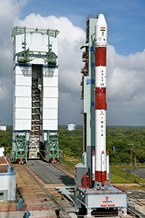 An Indian Polar Satellite Launch Vehicle.Bloomberg reported the news.
Susmita Mohanty, chief executive officer of Earth2Orbit, a Bangalore-based space start-up, was quoted as saying, "The small-satellite launch market is growing at an alarming pace and this launch is a way to say that the PSLV is all set to respond to emerging-market demands."
The 104 satellites will be used to map the Earth, track ships to monitor illegal fishing and piracy, as well as conduct microgravity experiments. The heaviest of them -- India's CartoSat-2D -- weighs 714 kilograms and the lightest -- the Nayif -- 1.1 kilograms.
Russia's Dnepr mission held the record of 33 satellites launched in 2014. The U.S. space agency NASA launched 29 in 2013. India put 20 in orbit in 2016, until now its biggest ever single launch, Bloomberg says. There were 208 satellites launched in 2014, almost double the amount the year before.
Very small satellites are a niche enterprise, so while flight arranging outfits will book a SpaceX rocket for an intermediary carrier vehicle, SpaceX won't deal directly with nanosat operators, Bloomberg quoted David Todd, head of space content at UK-based Seradata Ltd., as saying.