Sponsored Content
Bearings in centrifugal pumps support hydraulic loads imposed on the impeller, the mass of the impeller and shaft, and loads due to couplings and drive systems. They additionally keep axial and radial deflections of shafts within acceptable limits for the impeller and shaft seal. In handling all these functions – often in difficult process conditions – bearings can be subjected to a wide range of adverse forces whose impact can potentially reduce their service life and reliability over time.
In fact, bearings in centrifugal pumps typically will be subject to high axial loads, marginal lubrication, and high operating temperatures and vibration, all while attempting to minimize friction. Friction, if uncontrolled, ultimately can result in power loss, excessive heat generation, increased noise and/or wear, and premature bearing failure.
With pump bearings continuously put to the test, SKF has responded to the many challenges with solutions engineered to help withstand even the most difficult operating environment.
Here are some of the bearing solutions in the SKF portfolio typically recommended for pumps and demanding conditions:
• SKF single-row 40º angular contact ball bearings generally are used in moderate-speed centrifugal pumps where high thrust loads can be anticipated. Versions designed with robust machined brass cages can run particularly well in applications where thrust loads vary greatly during operation and periods of ball skidding will likely be encountered.
•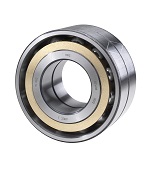 SKF double-row angular contact ball bearings are used extensively as the primary thrust bearing in ANSI standard centrifugal pumps and some older API style pumps. Design variations include steeper 40o contact angles to deliver increased thrust capacity, machined brass cages to impart robust performance in heavy-duty and poor lubrication conditions, and reduced axial internal clearances to promote load sharing between the two rows of balls and a reduced possibility of skidding in the inactive ball set,
• SKF specialized angular contact ball bearing sets are for centrifugal pumps with heavy thrust loads that are not reversing or those that reverse only periodically. High-performance matched sets of 40o and 15o angular contact ball bearings can provide improved robustness in high thrust load conditions by reducing the susceptibility of ball skidding in the inactive bearing.
• SKF split inner ring angular contact ball bearing sets are commonly used in vertical pumps to handle the primary thrust load. These bearing sets integrate a split inner ring ball bearing or four-point contact ball bearing to accommodate thrust loads in either direction matched with a single row 40º angular contact ball bearing.
Turning to innovations, the MRC PumPac® angular contact ball bearing arrangements feature optimized internal designs and contact angles to help reduce operating temperatures, vibration, and ball sliding.
Specifying the correct bearing arrangement will be critical for any application. At the outset, bearings (types, designs, and arrangements) should always be evaluated in the context of their anticipated operating environment for best results.
Mark J. Cutler is Applications Engineering Manager at SKF USA Inc. He can be reached at 267-436-6695, or Mark.J.Cutler@skf.com