U.S. Navy Fishes for Synthetic Slime
Engineering360 News Desk | February 09, 2017
The defense mechanism used by Pacific hagfish, also known as slime eels, has been replicated by researchers at the U.S. Naval Surface Warfare Center, Panama City Division for use by military personnel.
The bottom-dwelling hagfish protect themselves by secreting slime which obstructs the gills of predators. The slime, composed of thread-like and mucin protein components, has been compared to spider silk. It also possesses mechanical properties comparable to Kevlar, a synthetic fiber used as a reinforcing agent for rubber products and protective gear.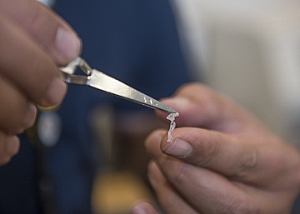 A sample of synthetic hagfish slime recreated from alpha and gamma proteins. U.S. Navy photo by Ron Newsome.

During synthetic recreation, alpha and gamma proteins were produced in Escherichia coli bacteria, where each protein was recovered from the bacteria after a series of isolation and purification steps. The alpha and gamma proteins were later combined together and rapidly assembled in a crosslinking solution.
A sample of natural and synthetic hagfish threads were compared using a scanning electron microscope to visually confirm the production of the synthetic threads.

The intended use of the synthetic slime is to provide non-lethal and non-kinetic defense to the fleet. Applications envisioned include ballistics protection, firefighting, anti-fouling, diver protection, or anti-shark spray.