NASA needs a way to cool the heat-generating electronic hardware used in the International Space Station and satellite.
An ideal solution should use little electric power, be lightweight, and have few moving parts, which could create noise and vibrations.
A candidate cooling technology developed at Worcester Polytechnic Institute's (WPI) Department of Mechanical Engineering will fly aboard the International Space Station later this decade.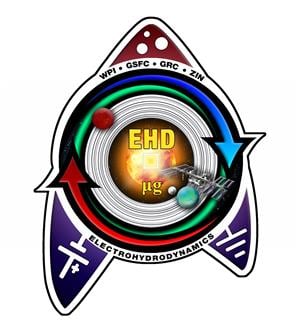 The mission patch for the planned test of the pump aboard the International Space Station.(Source: WPI)The solution is based on an electrohydrodynamic (EHD) pump, which involves the use of electrically charged fluids. EHD devices convert electrical energy directly into kinetic energy, or motion. In the devices developed at WPI, a nonsymmetrical electric field is used to move a charged liquid through tubes as thin as a human hair. The fluid picks up heat from a hot surface (such as an operating electronic device) and begins to boil.
The EHD pump moves the vapor away from the surface, where it is cooled back into liquid form so it can be circulated through the EHD pump again.
Prototypes of the cooling technology have been tested on NASA's reduced gravity aircraft, a modified Boeing 727 known as the Vomit Comet, which follows a steep parabolic trajectory in order to generate 20-second periods of microgravity—up to 40 per flight.
To date, team members have made 10 research flights, which have allowed them to test variations in the design of a single-phase EHD system (one where the liquid does not boil) and an EHD-driven liquid film-flow boiling system. After additional ground tests of an improved two-phase (liquid/vapor) system, preparations are under way for a new test flight on the Vomit Comet in 2017.
NASA will spend about $7.5 million over the next several years on research into heat transfer based on this technology. WPI researchers will develop an experiment, planned for 2020, to prove the ability of their two-phase EHD system to keep high-performance electronics cool on orbit.