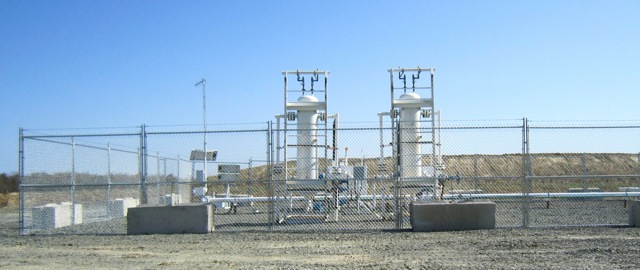 Pennsylvania fracking site. Image credit: Ostroff Law / CC BY-SA 3.0The first nationwide study of the comprehensive local impacts of hydraulic fracturing finds that when costs and benefits are added up, communities on average benefit from allowing it.
In studying the economic impacts of the technology that's become critical to U.S. oil and natural gas production, Michael Greenstone, the Milton Friedman professor in economics at the University of Chicago, and his co-authors take into account local changes in amenities, including factors that contribute to the quality of life such as truck traffic, criminal activity and beliefs regarding negative health effects. The researchers found such costs are outweighed by the benefits, which total $1,200 to $1,900 a year for the average household.
In the last decade, hydraulic fracturing, or fracking, has helped deliver lower energy prices, enhanced energy security, and lower air pollution and greenhouse gas emissions. But there have been concerns over negative health and social impacts outweighing the economic benefits for local communities where such drilling takes place.
According to the research, the benefits include a six percent increase in average income driven by rises in wages and royalty payments, a 10 percent increase in employment, and a six percent increase in housing prices. On the costs side, fracking reduces the typical household's quality of life by about $1,000 to $1,600 annually—excluding the increase in household income.
The authors also found that each region is affected differently, with some benefiting more than others. For example, the estimated effect on house prices was much larger in North Dakota's Bakken shale and Pennsylvania's Marcellus shale than in other regions.